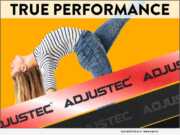 eNewsChannels NEWS: -- The US Patent and Trademark Office (USPTO) recently awarded Talon's Adjustec a second patent in a series of patterns concerning their Adjustec stretch technology Bandroll product. The patent provides additional protection for the Adjustec Bandroll-the design behind Talon's Inventor of the Year Award for 2020, awarded by Aramark. Following this second patent are two more patterns pending for the Adjustec Bandroll that cover even a wider range of applications.
eNewsChannels NEWS: -- Aramark, one of the world's largest food service, facilities, and uniform providers, has awarded its 2020 Innovator Award to Talon International's Adjustec Stretch & Performance Technology Division. This division of the legendary Zipper company and Trims manufacturer is making non-stretch fabric stretch and recover, even replacing elastics, while helping wearers to be more comfortable, fabrics to last longer, and to improve the fit of the garments.
eNewsChannels NEWS: -- While the pandemic continues to shatter businesses and the world is urged to stay at home, Allie Petrova, founder of Bellani, a luxury merino wool blanket maker, decided to bring warmth into people's homes and lives. Like many other professionals, Petrova, a North Carolina tax attorney, replaced in-person, client meetings with virtual ones.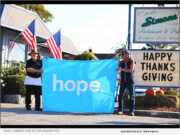 eNewsChannels NEWS: -- This Thanksgiving, Gary Simons of Simply Simons restaurant in Swansea, MA, and Peter Moubayed, owner of NorthEast Fleece in Fall River, MA, will deliver homemade hot turkey dinners, warm fleece blankets and a much-needed message of hope.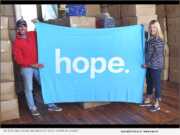 eNewsChannels NEWS: -- The world is calling out for comfort and NorthEast Fleece is working to answer that call. As a textile industry leader, the company recently created two new blanket designs - one featuring "Hope" and the other "Faith" - as part of its "Fleece for Peace" charitable giving program.