SAN FRANCISCO, Calif. /eNewsChannels/ -- NEWS Apr 23, 2013: CandyLipz LLC today announced a new product, the Xtreme Lip-Shaper(R) System, that allows users to naturally control the appearance and size of their lips. It's no longer necessary to experience expensive and invasive injections to achieve more luscious and fuller lips.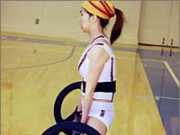 SAN FRANCISCO, Calif. -- Athletes who heard the rumor said it couldn't be done. How could a 5-foot woman, barely weighing in at 95 pounds compete with professional weightlifting men to set a new world record? On August 14, at St. Emydius Gym in San Francisco, Dr. Thienna Ho showed them how as she set the new Guinness World Record for the heaviest sumo deadlift in one hour.
SAN FRANCISCO, Calif. -- Thirty years ago, Thienna Ho and her family were Vietnamese boat people who survived a brutal attack by Thai pirates during a treacherous voyage on their way to their new home in San Francisco. Now Thienna is a super-athlete who has broken Guinness World Records (GWR) for feats of strength and endurance. On August 14 she plans to take the men's Guinness World Record for the most weight dead lifted in one hour.