NEW YORK CITY, N.Y. /eNewsChannels/ -- NEWS: Digiarty Software today announced today the debut of WinX HD Video Converter Deluxe 4.0, having a more intuitive GUI and new video editing features at a faster speed. In response to the movie watching demands during the summer holiday, the dyed-in-the-wool new version is being given away through July 25, 2013.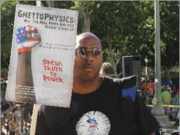 LOS ANGELES, Calif. /eNewsChannels/ -- When filmmakers E. Raymond Brown and Williams Arntz first released the independent movie 'Ghetto Physics' in late 2010, they knew the film was an early battle cry, a wake up call to America and beyond. Distributed by Intention Media, owned by 'What the BLEEP, Do We Know?' filmmaker Betsy Chasse, the cutting edge hybrid documentary explored the dynamics of the 'powers that be' in laymen terms that the 'man on the street' could easily relate to.
WAREHAM, Mass. /eNewsChannels/ -- Omni Publishing Co. announces the release on March 1, 2011, of the DVD 'The Last Closet - Combating Homophobia in Schools.' The DVD features the presenter Dan Woog, a gay man, who is the varsity soccer coach at Staples High School in Westport, Connecticut.
LOS ANGELES, Calif. /eNewsChannels/ -- 'Cancer is Curable Now,' presented by Wake-Up TV, is a feature-length documentary now on DVD, that demonstrates the problems cancer patients face and a wide range of solutions utilizing holistic cancer treatments. It reveals patient options and busts the myth that cancer is a deadly disease.
BALTIMORE, Md. /eNewsChannels/ -- LMXMEDIA announced today the official release of 'Raymond Berry's Receiving Fundamentals' DVD (a 2 disc set). This is the first DVD of its kind in the sports instructional and entertainment industry.
DALLAS, Texas -- Ever wonder why people pay a dating coach hundreds or even thousands of dollars? Otter Creek Motion Pictures announces the release of a new DVD - 'Secrets of Successful Dating.' This new DVD is designed to give the advantage of a dating coach and provides positive reinforcement in the privacy of the client's living room.
SANTA MONICA, Calif. -- COIN-OP TV celebrates six years of independent Internet TV on the video game industry. An early adopter of the online video format, COIN-OP TV launched a year before YouTube and many other popular video content Web sites.