Home
Tags
Water and Wastes
Tag: Water and Wastes
eNewsChannels NEWS: -- Encore Green Environmental Technologies & Licensing (EGETL) announces the purchase of water treatment technology equipment formerly known as NOMAD from XRI/Fountain Quail.
eNewsChannels NEWS: -- Stillwater Sciences, a leading California-based watershed science and ecosystem restoration consulting firm established in 1996, today announced Watershed Outreach Facilitator Shelly Backlar has joined Stillwater Sciences to help promote education and awareness of the Los Angeles River watershed and its resources to communities throughout the Southland.
eNewsChannels NEWS: -- Tekwell Services Certified by the State of Georgia as Electric Motor Basics Training Resource. We are proud to announce that our Plant Manager and Senior Trainer, Phil Aloisio, has been certified by the Georgia State Board of Examiners for Certification of Water and Wastewater Treatment Plant Operators and Laboratory Analysts.
eNewsChannels NEWS: -- Western Machine Works, an engineering-focused equipment service and maintenance provider based in Portland, Oregon is pleased to announce the hiring of Rob Adams as a dedicated Hydro specialist, sales engineer to provide in-depth knowledge and expertise to its hydro clients.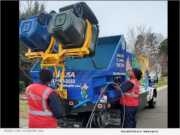 eNewsChannels NEWS: -- Since the pandemic struck last year, many businesses have struggled to stay afloat and others unfortunately, have had to close their doors. But Trash Can Cleaning USA, a HUB-certified North Carolina company, has not been one of them. It's managed to flourish in times of economic uncertainty, and that's mostly due to its service offering - a unique way to keep customers' trash and recycle cans clean.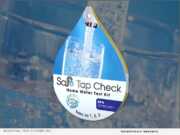 eNewsChannels NEWS: -- For over 30 years, Industrial Test Systems, Inc. (ITS) has been a leading innovator of instruments and chemistries designed to test water quality. The company continues to push industry boundaries by shifting its packaging process and reducing its carbon footprint.
eNewsChannels NEWS: -- When Darin Gross purchased Turner Sanitation in early 2020, he never imagined that re-shaping the business would take him through a pandemic and increased need for his services. But as the company has steered toward additional services and greater community needs, the once seasonal business has been transformed into a full-year operation.
eNewsChannels NEWS: -- MINLOX, LLC, a chemical manufacturer based in Newport Beach, California, with multiple blending facilities globally, today announced the launch of its proprietary formula used to treat recreation waters as well as watersheds.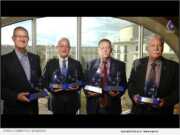 eNewsChannels NEWS: -- Idaho Rural Water Association (IRWA) earns the 2020 State Association of the Year Award in the Awards of Excellence competition awarded by National Rural Water Association (NRWA). This is the second time IRWA has earned this award since its incorporation in Idaho in 1987.
eNewsChannels NEWS: -- EGW Utilities, Inc. has acquired Buy Wholesale Company, LLC (BWC) of Montgomery, Texas. BWC was founded by Karl Knapp in 1985. He and his wife, Tracy, operated it until its acquisition on October 30, 2020. The procurement of BWC greatly increases EGW's waterworks and plumbing product offerings.