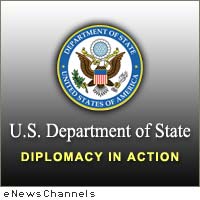 WASHINGTON, D.C. /eNewsChannels/ — The U.S. Department of State's Office of Weapons Removal and Abatement in the Bureau of Political-Military Affairs (PM/WRA) supported the third in a series of workshops in Sarajevo, Bosnia and Herzegovina, November 2-4, as part of its continuing effort to develop a regional approach to the reduction of excess and at-risk conventional weapons and munitions stockpiles in South East Europe.
The South East Europe Regional Approach to Stockpile Reduction (RASR) workshops encourage Defense Ministry and General Staff officials involved in stockpile management to build relationships with their counterparts and experts in the region. Representatives from eight South East European countries, the U.S. Departments of State and Defense, and international organizations participated.
The workshop focused on sharing best practices and developing national and regional plans to ensure the effective management, physical security and reduction or demilitarization of stockpiles of excess or loosely secured conventional weapons and munitions. The workshop also reinforced regional confidence building.
The United States is committed to helping countries reduce and destroy at-risk stockpiles of munitions and conventional weapons, including man-portable air defense systems (MANPADS), clean up hazards that remain after disastrous explosions at munitions depots, and improve stockpile safety and security. PM/WRA provides support for clean-up efforts after explosions, which cause large numbers of casualties and significant damage, displacing civilians from their homes and communities.
To learn more about the U.S. Department of State's efforts to reduce and destroy excess, unstable, and loosely secured conventional weapons and munitions around the world, visit the PM/WRA website at www.state.gov/t/pm/wra/. Information about the RASR Initiative and workshop materials are available on the RASR Initiative website at www.rasrinitiative.org.