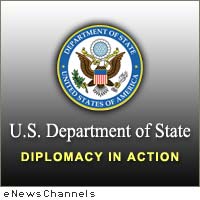 WASHINGTON, D.C. /eNewsChannels/ — This week the U.S. Department of State's Bureau of Educational and Cultural Affairs will bring young professionals from around the globe together for the end of the Professional Fellows Program in Washington, D.C., from November 7-10. The Professional Fellows Congress is the concluding element of month-long fellowships for 241 young professionals from 51 countries and territories, individually matched in placements with U.S. state and local government offices, non-profit organizations, and private sector businesses.
The Professional Fellows Program brings emerging leaders to the United States for intensive fellowships designed to broaden their professional expertise. The fellowships provide fellows with hands-on experience working with organizations in 27 different states and focus on three broad themes – Legislative Development, Women's Empowerment and Entrepreneurship. Examples of U.S. host organizations include the American Bar Association, the New York General Assembly, the Cambridge Health Alliance and Google.
At the end of their fellowships, the participants travel to Washington, DC, for the final element of their exchange, the Professional Fellows Congress, where they get a chance to build up their network of professional contacts and continue work on action plans that they will implement when they return home. Many of the Fellows will also host U.S. exchange participants in their workplaces and communities overseas during the follow-on phase of the project in the coming 3-5 months.
In conjunction with the Department of State's Bureau of Educational and Cultural Affairs, the fellows' placements are individually arranged by sixteen different American non-profit organizations and universities. In the past three years, more than 1,000 foreign Professional Fellows have come to the United States under this program.
To learn more, please visit: http://exchanges.state.gov/citizens/profs/professional-fellows.html .