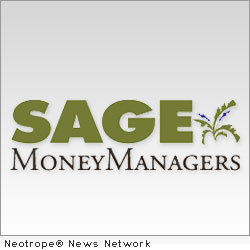 DENVER, Colo. /eNewsChannels/ — A new look and new services for Building Business Success has been unveiled. The new company name, Sage Money Managers, LLC signifies the expansion of its service offering into the arena of Personal Finance. This is in addition to Accounting and Business Management. The firm's new image personifies its focus on providing solutions and services for individual and business Daily Money Management.
Daily Money Management, a growing professional field, is becoming more and more prevalent across the country. Daily Money Managers help individuals and families with their personal paperwork. This may include bill paying, checkbook balancing, filing, organizing, budgeting and credit monitoring, as well as, submitting and tracking medical insurance claims. Some Daily Money Managers also provide bookkeeping and accounting services for businesses. Daily Money Managers typically also provide referrals to social support and professional services if they do not provide these services themselves. Most Daily Money Managers will visit clients in their own homes or at their place of business.
Older adults, as well as, busy professionals are likely to engage the services of Daily Money Managers. Daily Money Managers' services can help older adults maintain independence while providing their adult children with peace of mind, knowing their parents' needs are being met. Many individuals and families have busy lives that leave little time for leisure pursuits. Daily Money Managers' services can give them more time for themselves by taking care of a variety of personal business and paperwork tasks.
Sage Money Managers, LLC of Golden, Colorado, is a company available to help local clients with their Daily Money Management needs. Jan Skibinski, Money Manager and owner of Sage Money Managers, LLC, has an extensive background in Finance, Accounting and Administration. She has been a Denver metro area resident since 1990 and is actively involved in her local community. Sage Money Managers, LLC can be contacted at 303-588-2595 or JanS@SageMoneyMgrs.com.
About Sage Money Managers, LLC:
Founded in 2008 as Building Business Success, the company historically provided business management consulting that focused on financial education, profit improvement, planning and strategy for small business owners. Sage Money Managers, LLC builds on this solid business platform and brings the same focus on financial understanding and accuracy to individuals.
Jan Skibinski is a member of the American Association of Daily Money Managers – a membership organization comprised of individuals and firms that provide Daily Money Management services to their clients. AADMM is committed to promoting high standards of client services provided by members through its professional certification program and to supporting the growth of the Daily Money Management industry, in number of providers, in recognition of the field, and in the quality of services provided. For more information go to www.aadmm.com or contact the association directly at 877-326-5991.
For additional information, visit http://www.SageMoneyMgrs.com or call 303.588.2595.
Copyright © 2012 Neotrope® News Network – all rights reserved.