SACRAMENTO, Calif. /California Newswire/ — Governor Arnold Schwarzenegger today applauded the California Public Utilities Commission (CPUC) decision to not regulate companies that sell electric vehicle charging services to the public as "public utilities," pursuant to the Public Utilities Code: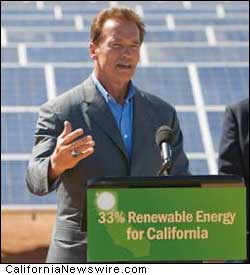 "I applaud the CPUC for making this important decision that takes another step towards making California one of the most attractive places in the world for green technology. It will now be easier than ever for electric vehicle charging infrastructure to be built throughout the state, meaning more electric vehicles on the road. Today's decision will also mean less pollution, decreased reliance on costly oil, job creation and better options for consumers in California."
Governor Schwarzenegger has been a strong supporter of alternative fuel and zero emission vehicles and has taken significant action to support their use in California. Some of his most significant actions include:
•Sales Tax Exemption for Zero Emission Vehicle Equipment: Last year, the Governor and Treasurer Bill Lockyer created a program to exempt manufacturing equipment for zero emission vehicle manufacturers from sales tax. This exemption is administered through the California Alternative Energy and Advanced Transportation Financing Authority.
•Alternative and Renewable Fuels Vehicle Technology Program: In 2007, The Governor signed AB 118 to establish the Alternative and Renewable Fuels Vehicle Technology Program. The legislation authorized the California Energy Commission to provide approximately $120 million annually over seven years to develop new fuels and technologies.
•Automobile Emissions Standards: Due to Governor Schwarzenegger, California's attempt to receive a federal waiver to reduce emissions from passenger vehicles was granted. The Governor's efforts also produced a national standard for cleaner, more fuel-efficient vehicles that will improve our environment and protect our economy.
•Low Carbon Fuel Standard (LCFS): California's LCFS requires fuel providers to reduce the carbon intensity of transportation fuels sold in the state, dramatically expanding the market for alternative fuels. To start, the LCFS will reduce carbon content in all passenger vehicle fuels sold in California by at least 10 percent by 2020 and more thereafter.
•Promoting Hydrogen as an Alternative Fuel: In 2004, Governor Schwarzenegger launched an initiative to coordinate the deployment of hydrogen infrastructure to match the emerging California market for zero-emission hydrogen vehicles and buses. Since then, California has become home to the largest number of hydrogen stations in the world with a network of 16 stations in the greater Los Angeles area and another 10 throughout the rest of the state. Seven more stations are planned by 2010 for the Los Angeles region which will more than double the amount of hydrogen available to the public.