SACRAMENTO, Calif. /California Newswire/ — Governor Arnold Schwarzenegger announced on Tuesday that he will lead a trade mission to China, Japan and South Korea in the fall. The trade mission will be conducted from September 9 through September 15 and will focus on high speed rail, California products and services, investment into California, and travel and tourism.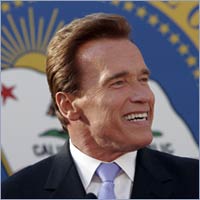 "China, Japan and South Korea represent three of California's most important trading partners and I am looking forward to visiting these countries to learn more about their high speed rail products, services and financing and to promote California's people, products and places," said Governor Schwarzenegger. "I promised when I became Governor that a top priority would be promoting this state around the world, and this mission will play a vital role in keeping up trade relations and advancing California's trade priorities with our partners in Asia."
China, Japan and South Korea are among California's top five trading partners. In 2009, California exported more than $120 billion, $26.5 billion of which went to China, Japan and South Korea. Exports to these three trading partners are continuing to grow, with exports of $7.5 billion just through the first quarter of 2010.
Travel from all three countries contributes a combined $1.5 billion in annual visitor spending to the California economy. September's trade mission will be Governor Schwarzenegger's second to China and Japan, and his first to South Korea. The Governor has previously gone on trade missions to China, Japan, Canada, Germany and Mexico.
The Governor conducted his first trade mission to China and Japan in 2005, and two years ago, for the first time in history, California strawberries were legally exported to Beijing for the Olympics. As with previous missions, September's trade mission to Asia will promote California, bolster trade relations, encourage investment and come at no cost to California taxpayers.
Additional information on the Governor's public meetings, appearances and events with top government and business officials will be made available closer to the September trade mission. The Governor is coordinating with the Los Angeles Area Chamber of Commerce for the South Korea portion of the trade mission.