SACRAMENTO, Calif. /California Newswire/ — Governor Arnold Schwarzenegger today signed AB 1601 by Assemblymember Jerry Hill (D-San Mateo), which authorizes judges to revoke, for up to ten years, the license of any person convicted of three or more DUIs in a 10-year period. Current law only allows for a license revocation period of three years for someone with three or more DUIs. Hundreds of thousands of Californians are arrested and convicted of driving under the influence every year in California, and many of them are repeat offenders.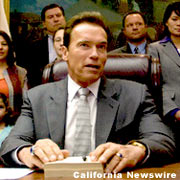 "This legislation is an important step toward making California's roads safer. Thousands of lives are impacted and lost every year due to drunk driving, and I am proud to sign legislation that could help reduce that number," said Governor Schwarzenegger. "Those who have multiple DUI convictions should not be on the road threatening lives, and I commend Assemblyman Hill for spearheading this potentially life-saving legislation."
According to the California Department of Motor Vehicles, there were 187,987 DUI convictions in California in 2008, 9,164 of which were third time DUI offenders within 10 years. In 2008, more than 1,000 people were killed by drunk drivers in California and another 28,000 were injured. According to the National Highway Traffic Safety Administration, there are over 310,000 people in California with three or more DUI convictions and one-third of the annual 1.5 million DUI arrests are repeat offenders.
"The Governor saved an untold number of lives by signing AB 1601," said Assemblymember Hill. "I urge judges across the state to use this new authority and take repeat DUI offenders off the road. If every judge utilized the 10-year license revocation created in this legislation, we could remove over 10,000 repeat DUI offenders from our roadways every year."
AB 1601 will go into effect January 1, 2012.