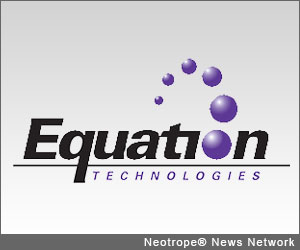 TORONTO, Ontario /eNewsChannels/ — Equation Technologies announced today that it has been named to Bob Scott's Insights 2012 VAR Stars. Equation Technologies was one of five Canadian firms included on the list of 100 North American VARs.
"This is a special honour as the criteria include leadership within the industry and growth," said Equation Technologies president Pat Wade. "As an organization we have invested in earning the credentials, representing the best solutions, and working with our clients so that they enjoy success and fulfill their goals. We are very pleased to have those efforts recognized and honored to be included on this list of impressive businesses."
Bob Scott's Insights published the following regarding the selection of 2012 VAR Stars, "The selection of mid-market accounting resellers for Bob Scott's VAR Stars rests on one basic principle: quality, not revenue as the deciding factor in picking the 100 businesses that are selected for this honour."
Other criteria include awards the reseller has received from software publishers and leadership in the industry.
Since 1985, Equation Technologies continues to provide small to medium-sized businesses, associations and not-for-profit organizations with software systems designed to enhance their mission and objectives.
Equation Technologies is the sole solution provider in Canada for Avectra's Social CRM solution for associations and the only BambooHR partner in North America.
Post Y2K, the company's business model shifted to focus on software applications for "people-based" businesses. Most recently, the company has focused on associations across Canada, helping them achieve their mission and leverage technology across the organizational areas of member management, human resources and accounting. Those efforts include developing an interface between BambooHR and popular payroll solutions to allow better efficiencies and accurate transfer of data.
About Equation Technologies:
Partnerships with proven technology leaders including Avectra, BambooHR, Sage, and Deltek allow Equation Technologies to help clients effectively manage finances, projects, people, constituent relationships, and assets.
In addition to this most recent honour, the company has received a variety of awards including Sage President's Circle, Accounting Today magazine's "Technology Pacesetter," 2012 BSI Top 100 VAR, and the Sage Customer Excellence Award for its high level of client satisfaction.
More information on Equation Technologies can be found at . Equation Technologies participates on Twitter at https://twitter.com/EquationTech and on Google+.
Copyright © 2012 Neotrope® News Network – all rights reserved.