ATLANTA, Ga. — M2SYS Technology, an award-winning fingerprint biometrics research and development firm, announced today that it has finalized a partnership agreement with ZOLL Data Systems(R), an industry leader in the development of EMS and fire department management software, to provide fingerprint software and hardware to ZOLL Data Systems' customers. Through the terms of this agreement, ZOLL Data Systems will be offering Bio-Plugin(TM), a fully-developed fingerprint software module from M2SYS, to its customers.
ZOLL Data Systems has successfully integrated Bio-Plugin with RescueNet(R) Crew Scheduler, their scheduling solution for EMS managers and supervisors. This application enables their customers to manage employee time and attendance and simplify their scheduling process. Bio-Plugin will function as a seamless front-end to RescueNet Crew Scheduler, instantly providing a fingerprint module that employees can use to clock in and out of the host application.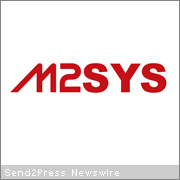 According to Tara DeLone, product manager at ZOLL Data Systems, "We are excited to have the opportunity to offer a biometric component to our customers. The integration of Bio-Plugin will give us a competitive advantage in the marketplace while providing an additional revenue stream. We were able to integrate Bio-Plugin with our application much faster and easier than we anticipated so our customers should achieve ROI rapidly given the cost savings realized through the reduction of buddy punching."
"Our partnership with ZOLL Data Systems will provide a great opportunity for their customers to realize the benefits of using biometrics," states Michael Trader, president of M2SYS. "By reducing buddy punching and increasing the accuracy of data being collected, ZOLL Data Systems' customers should start saving both time and money in a very short period of time."

About M2SYS
M2SYS Technology, www.m2sys.com, is a recognized industry leader in fingerprint identity management technology, delivering a wide range of customized, fully functional, turn-key fingerprint software solutions for businesses and consumers. M2SYS was awarded the prestigious Frost and Sullivan Biometric Technology Innovation of the Year award in 2007.
About ZOLL Data
ZOLL Data Systems, Inc., www.zolldata.com, develops, markets, and sells the RescueNet(R) suite-computer-aided dispatch, billing, field data collection, crew scheduling, records management, and mobile data software for the fire and emergency medical services (EMS) market. ZOLL Data Systems is a wholly owned subsidiary of ZOLL Medical Corporation.
[tags]ZOLL Data Systems, M2SYS Technology Bio-Plugin, RescueNet Crew Scheduler[/tags]