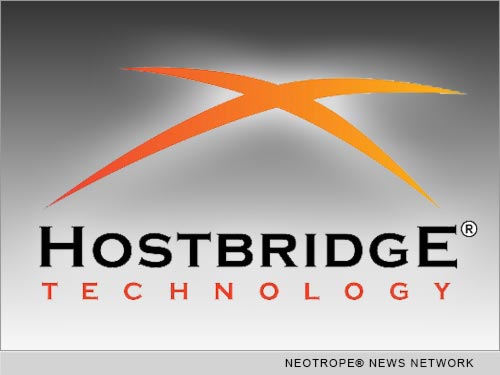 STILLWATER, Okla. /eNewsChannels/ — NEWS: IBM(R) and HostBridge(R) Technology will hold a live joint webcast on Wednesday, August 13, 2014, at 11 a.m. EDT. Andrew Bates, IBM CICS(R) TS Product Line Manager, and Russ Teubner, HostBridge CEO, will describe the latest enhancements and use case studies to show how enterprises are taking advantage of CICS Transaction Server and HostBridge to gain service agility, operational efficiency, and mobile, web, and cloud capability.
CICS TS V5 continues to add enhancements to its solid, proven foundation. These include improved mobile application integration, runtime support for production-ready web applications, increased system capacity and capability, simplified system management, rapid application deployment, and pattern-based cloud deployment.
HostBridge v6 complements the capabilities of CICS and IBM System z(R) data resources. Organizations employ HostBridge to expose flexible services interfaces (HTTP, REST, SOAP, WSDL), express data and content efficiently, expand usage of zIIP and zAAP specialty engines, eliminate overhead, and exploit CICS-based scripting for flexible web services and dynamic applications.
Use cases from telecommunications, financial services, and healthcare will show how real organizations are using CICS and HostBridge to respond to competitive pressure by improving efficiency and agility, add new or additional workload, and lower the cost of high-volume application processing.
To reserve your place at this informative webcast on Wednesday, August 13, at 11 a.m. EDT, go to http://tinyurl.com/lvade7a .
About HostBridge Technology:
HostBridge Technology provides high-performance, high-precision integration and optimization software for IBM(R) CICS(R) and other IBM System z(R) assets. Using our patented products, enterprises integrate anything mainframe with anything distributed, optimize mainframe performance, reduce the cost of mainframe ownership, improve information-driven business processes, and make more money.
Founded in 2000, HostBridge Technology has built a reputation for solving the toughest challenges and counts many of the largest companies in the world as loyal customers. For more information, visit http://www.HostBridge.com/ .
About IBM CICS Transaction Server:
IBM(R) CICS(R) Transaction Server is a family of scalable general-purpose transaction processing solutions for z/OS(R), VSE/ESA, and distributed platforms. These servers support large transaction volumes with fast, consistent response times and provide high availability and scalability at a low cost per transaction. For more information, visit http://www.ibm.com/software/products/cics-tservers/ .
This version of news story is Copr. © 2014 eNewsChannels™ (www.enewschannels.com) and the Neotrope® News Network – all commercial and reprint rights reserved. Unauthorized reproduction in whole or in part without express permission is prohibited.