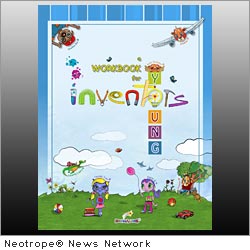 LOS ANGELES, Calif. /eNewsChannels/ — Inventive Minds continues to add useful and inspirational media products to its line of tools for inventions. Most recently, it has created and released "A Workbook For Young Inventors" (ISBN: 978-0983344803). This workbook for kids incorporates colorful characters known as the "Dreamalings(R)" that are used to educate and motivate children to imagine and create, and ultimately – invent.
The Dreamalings(R) travel with the child on their journey every step of the way. They propose organizational and structural tips to help the child to structure their thoughts in a manner that will help them to execute their ideas.
The purpose of the workbook is two-fold: to stimulate imagination; and to serve as a teaching tool for documenting projects and inventions that may contribute to historic and positive change.
"Our mission is to work with inventors, organizations and schools around the world," says Alina Mirzaian, founder of Inventive Minds. "We all have a certain genius inside of us and my desire is to help people to tap into that creative power and guide them on how to invent."
This new workbook is designed for children aged 7 to 12 and is 32 pages in length. It is full color and introduces the purpose that an invention serves. It includes workbook rules and guidelines; numbered entry and grid pages; colorful characters with inspirational quotes; cool facts related to historical inventions; and a history of Thomas Edison and his inventions.
A digital download version is available for $7.95; a softcover/paperback edition (ISBN-13: 978-0983344803) is available for $13.99. Both may be accessed here: . Also available on Amazon at www.amazon.com/dp/0983344809/ .
About Inventive Minds:
Inventive Minds was founded by Alina Mirzaian while she was in her second-year of graduate school pursuing her MBA. She had worked on a marketing plan for an invention idea and was quickly inspired by her professor to take it to the next level. Now, as a patent-pending inventor and while attending law school, she has first-hand knowledge of the importance of an inventor's journal.
Today, Inventive Minds is a media development company that is committed to creating high quality, user-friendly inventor's journals that are designed to assist young, teen and adult inventors in maintaining and documenting their ideas for inventions.
Future plans include translation into French, Italian and Spanish.
This is all made possible through a hand-selected team of successful individuals who are part of a highly-creative and talented advisory committee.
For more information, visit: .
Copyright © 2011 Neotrope® News Network – all rights reserved.