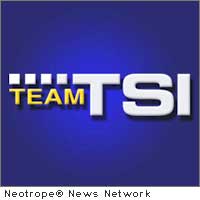 ORLANDO, Fla. /eNewsChannels/ — Team TSI, LLC, a national installation contractor, announces that due to a steady increase in revenue and the need for an ever expanding national footprint, they will be bringing on additional installation technicians to meet the growing demands of their customers and vendors. This move could be seen as aggressive, even reckless by some during an economy when most companies continue to downsize.
Craig Finlay, CEO of Team TSI, doesn't think so. "In order for us to continue to provide the kind of specific, customer centered service people have come to expect, Team TSI must have technicians in or near all major markets. This gives us the ability and the flexibility to handle projects and jobs of all sizes and in areas where other installation companies fall short."
The additional technicians will give Team TSI a new or expanded presence in the following major U.S. markets – Sacramento, Kansas City, Chicago, Seattle, Portland, Denver, Dallas, New Orleans, Charlotte, Memphis and Indianapolis. With this expansion Team TSI will maintain their standing as one of the premier installation contractors in the U.S.
About Team TSI:
Team TSI is an installation solutions provider dedicated to the manufacturer, its customers and partners by providing full-service turnkey logistics, project management and ongoing support. Team TSI specializes in the installation of GPS tracking units, telematics, mobile laptops, RFID, fuel management systems, video based fleet safety systems, on-board computers, hands-free car kits, two-way radios, navigation units and other mobile electronics into the largest commercial fleets in the country, as well as Wi-Fi and structured cabling systems into Fortune 1000 companies across the U.S.
Team TSI has pioneered many new technologies and policies in the GPS tracking industry including TSI Tracker – a proprietary, web based application for ongoing project management and customer support – and The TSI 5 – specific required photos of every installation Team TSI performs in order to assure the same high standard of quality Team TSI demands of all technicians and partners.
These technologies, when combined with the experience Team TSI has earned through over 265,000 vehicle installations across the U.S. in the last 13 years, guarantees we deliver a world class experience. Team TSI utilizes a combination of in-house technicians and strategic partners to deliver the best installation experience in the industry.
More information about Team TSI can be found at www.Team-TSI.com .
Copyright © 2011 Neotrope® News Network – all rights reserved.