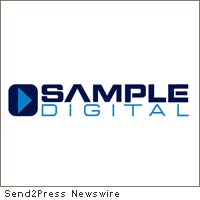 HOLLYWOOD, Calif. /eNewsChannels/ — Sample Digital has announced that Michael J. Lam has come aboard as VP, Account Development. Previously President of ClearStory Systems, the media asset management company, Lam has long experience in the technology field, with a focus on business systems. He is based in New York and will be working closely with the company's West Coast headquarters.
"We are excited that Mike is onboard at this time of our company's rapid growth," said Sample Digital CEO Patrick Macdonald-King, while attending NAB in Las Vegas. "His mandate is to expand our products and services line beyond the media and entertainment sector, where we are now the market leader, into new business verticals."
"I'm pleased to join with Sample Digital, and believe they have the best product on the market for video management and collaborative workflow," said Lam. "I'm looking forward to working with Patrick and the team to introduce their platform to marketing/communications departments at major advertisers and corporate America."
Prior to his six-year stint at ClearStory, Lam was VP of Information Technology and Operations at Insure .com. As Director of Information Systems and Technical Services for InterQual Products Group, Lam served as project leader on the integration team to consolidate all technology, infrastructure, and applications between InterQual with McKessonHBOC, the parent company with 30,000 employees. Lam has a Computer Science BA from Clark University, and launched his information technology career as an intern in the mid-1980's with Burroughs Corp.
About Sample Digital:
Sample Digital ( www.sampledigital.com ) is the market leader in digital production workflow solutions, meeting the entertainment industry's growing demand for end-to-end electronic management of the production process. Sample Digital's services, including Digital Dailies(TM), minimize inefficiencies throughout the content creation, distribution and approval process. The company's Web and set-top box applications create a secure online environment where producers, management, distribution and licensing partners can share ideas, information and content created throughout the production, or campaign lifecycle, and as required for trafficking and distribution of final product.
Sample Digital
Phone: 323-993-8840
info@sampledigital.com .
This story was issued by Send2Press® Newswire (Send2Press.com) on behalf of the news source and is Copyright © 2010 Neotrope® News Network – all rights reserved.
Story References: Sample Digital, michael lam, nab, digital production workflow, business systems, patrick macdonald king, digital dailies, NAB, advertising, video, film, broadcasting.