GREENSBORO, N.C. /eNewsChannels/ -- Asheville fine artist Cindy Walton has been selected as one of 20 North Carolina abstractionists to present her work, technique, and inspiration in the innovative Pecha Kucha style on April 23, 2013, as part of the Green Hill Center for North Carolina Art spring focus on abstract art.
NEWPORT BEACH, Calif. /eNewsChannels/ -- On April 10, Dr. Barry Eichengreen will be the Guest Expert on 'Market Wrap with Moe Ansari,' a nationally syndicated radio show that analyzes Wall Street news and provides insight into the complexities of the stock market.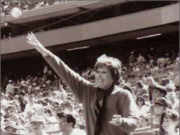 LOS ANGELES, Calif. /eNewsChannels/ -- Whatever holiday pops up on your calendar, two things are always true: kids are happy about it and the late Ruth Roberts wrote kids' music to help you celebrate it.
IRVINE, Calif. /eNewsChannels/ -- The Maple Youth Ballet honored Donalyn Kling, one of its most dedicated patrons at the second annual Diamonds and Dance Gala on Saturday, March 9 at Black, Starr and Frost in Newport Beach. 'Donalyn, without you we would not have been able to do so many of the things we have accomplished this year,' said Charles Maple, co-founder of the Maple Conservatory.
LOS ANGELES, Calif. /eNewsChannels/ -- Today, Publishers Newswire (PNW), an online resource established in 2004 for small publishers, as well as lesser known and first-time book authors, has announced its latest semi-annual 'Books to Bookmark' list. This is a round-up of 10 new and recent books from Q4/2012 and Q1/2013 which may have been missed due to not originating from major New York book publishing houses, or 'big name' writers.
LOS ANGELES, Calif. /eNewsChannels/ -- CACA (Cory Allen Contemporary Art) announces that L.A. street artist 'ALEC Monopoly' will bring the game of MONOPOLY to life at LAB ART Gallery in Los Angeles, where the artist plans to sell one of his popular pieces for MONOPOLY money and create a designer game piece with Actor Adrien Brody's '64 Pontiac Catalina.
KALISPELL, Mont. /eNewsChannels/ -- When the Flathead Community Foundation climbed on board as the title sponsor for the 2012 Montana Dragon Boat Festival, they knew they were in for a wild ride. After a rip-roaring success in 2012, including the $75,000 raised by local non-profits, the Flathead Community Foundation returns as this year's lead sponsor, it was announced today by the Kalispell Convention and Visitor Bureau.
CALIFON, N.J. /eNewsChannels/ -- Author DJV Murphy believes he may have uncovered a long lost mystery about a sizable estate left to the Stevens Institute of Technology in Hoboken. In doing research for the biography 'Who Was E. B. Gallaher?' (ISBN: 978-1480043770), Murphy discovered that a bequest left by the Connecticut millionaire to the Institute for the development of a research center was never carried out.
LOS ANGELES, Calif. /eNewsChannels/ -- Renowned photographer Wayne Schoenfeld returns to the big top in 'Circus of the Heart,' the completion of his celebrated Icons/Iconoclasts circus trilogy, the largest contemporary photographic series of the 1930's North American circus, February 26, at LA Circus.
HOLLYWOOD, Calif. /eNewsChannels/ -- Written and directed by international chanteuse, Juliet Annerino, 'The Lord's Lover' breaks conventional boundaries of modern stage with cabaret, performance art, live music, dramatic theater, exotic dance, and cutting edge video imagery. The intricacies of human sexuality and controversial themes of desire and 'free will' are explored and celebrated.