Agribusiness News - including farming, nurseries, farm equipment and related
eNewsChannels NEWS: -- The Petrolia-based Lost Coast League (LCL) today announced that the growing controversy over Humboldt Redwood Co.'s (HRC's) plans to log virgin forests at Rainbow Ridge stepped up a notch when auditors for the highly regarded Forest Stewardship Council (FSC) announced they will be reviewing the "sustainable" certification associated with two of the company's key logging plans.
eNewsChannels NEWS: -- The Petrolia-based Lost Coast League (LCL) on Tuesday filed a formal grievance with SCS Global Services for certifying as sustainable a logging plan by Humboldt Redwood Co. (HRC) on untouched, primary forests in the Mattole River watershed on Rainbow Ridge.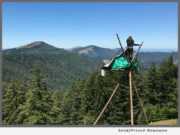 eNewsChannels NEWS: -- Forests Forever, a non-profit forest protection advocacy group, today announced that five employees of Lear Asset Management, a security contractor for Humboldt Redwood Co. (HRC), swept down on protesters camped near a logging road on Rainbow Ridge in the Mattole River watershed at about 5 a.m. yesterday (July 22).
eNewsChannels NEWS: -- Aeroscape Property Maintenance and Landscaping has released the following reference guide for selecting flowering shrubs for Utah landscape design. Because Utah is a challenging environment for flowering shrubs-the arid climate, the hot, full-summer sun, winters with heavy snowfall, and a wide variety of soil qualities and composition all can be factors impacting the health of these plants.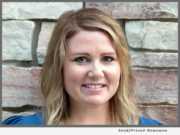 eNewsChannels NEWS: -- The Seidel Diesel Group is pleased to announce that Jaime Rogan has been named Marketing Manager for the company. Her responsibilities in this new role include directing marketing strategies and programs and developing branding for all SDG affiliates.
eNewsChannels NEWS: -- The Conegliano Valdobbiadene Prosecco Superiore D.O.C.G. announces that Charles Communications Associates (CCA) is now their agency of record for the United States. The Consortium is a private body created to represent vine-growers, wine making companies and bottlers from Conegliano Valdobbiadene and to safeguard the standards of the D.O.C.G. criteria in crafting wines of the highest quality and distinct provenance.
eNewsChannels NEWS: -- The Arizona Wine Growers Association today announced its 2017 lineup of vineyards for the Festival at the Farm, Saturday, Nov. 11, 2017. The event will offer various wine tastings, displays and food from Arizona restaurants and retailers. Discussions will focus on how wine growers engage customers in their brands and enhance the shopping experience through innovation, technology and techniques for meeting evolving consumer preferences.
eNewsChannels NEWS: -- The Arizona Wine Growers Association (AWGA) has announced the election and the re-election of members to its Board of Directors and officers for term through 2018. AWGA is governed by 8 growers in three districts who serve 1 or 2 year terms.
eNewsChannels NEWS: -- Kief-Joshua Vineyards (KJV) is officially opening its gates and inviting the public to join them on September 16, from 11 a.m. to 5 p.m. at their Willcox tasting room, located at 4923 E. Arzberger Road. The grand opening will feature wine flights, wines or sangria by the glass, small bites pairings and a local pistachio farmer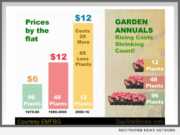 eNewsChannels NEWS: (DETROIT, Mich.) -- DayStar Books has launched a new website and companion eBook offering lesser known tips and techniques to consumers on factors affecting gardening prices entitled "Eastern Market Flower Deals."