Agribusiness News - including farming, nurseries, farm equipment and related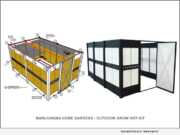 eNewsChannels NEWS: -- Tempe, Arizona-based, Marijuana Home Gardens announces it has filed for a patent on its turnkey Outdoor Marijuana Grow Hut Kit (USPTO application: US 63/163,586).
eNewsChannels NEWS: -- The AGCO Challenge at the eighth World Agri-Tech Innovation Summit was this: New sensing, measurement and edge computing technologies to monetize soil insight and carbon sequestration. And, EarthOptics rose to the occasion.
eNewsChannels NEWS: -- Tempe, Arizona-based, Marijuana Home Gardens announces the production and sales of turnkey Outdoor Marijuana Grow House Kits and premium gardening services for those who suffer chronic pain or like to enjoy the use of recreational marijuana.
eNewsChannels NEWS: -- ynergy for Ecological Solutions announces a series of free webinars that promote climate wellness and increased air quality through improved soil health. This new paradigm meets ESG and Sustainability goals.
eNewsChannels NEWS: -- Encore Green Environmental announces a step forward in landowner relationships with the energy industry. The O.J. Enterprise ranch operation outside Cheyenne, Wyoming has secured a unique surface-use agreement with a Dallas-based midstream company, allowing the ranch to receive the right of first refusal for the produced/by-product water and any potential flare gas.
eNewsChannels NEWS: -- EATYALL founders, Andy and Marianna Chapman, plan to send hundreds of Chef Care Packages to hardworking chefs in 2021. The Chapmans have built relationships with chefs around the globe for over a decade, assisting them in their search for better ingredients.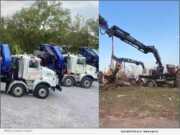 eNewsChannels NEWS: -- Don Dowd, owner of tree lead marketing company Tree Leads Today, announced his new partnership with Justin Hartmann of Canary Tree. As soon as Don Dowd saw Justin Hartmann's short-term grapplesaw crane leasing model, he knew it was the perfect solution for his clients who struggle to keep pace with their backlog of work.
eNewsChannels NEWS: -- Starting in 2016, global vanilla prices skyrocketed when below average harvests in Madagascar and Indonesia coincided with increased consumer demand for natural flavors and "clean" labels, notes Singing Dog Vanilla.
eNewsChannels NEWS: -- ViewTech Borescopes will go back to exhibiting in-person for the first time since COVID-19 halted tradeshows. The 2020 National Agricultural Aviation Association Expo will be taking place December 7 - 10 at the Savannah Convention Center in Savannah, Georgia.
eNewsChannels NEWS: -- Avila Herbals, a company specializing in novel botanical extraction techniques for both dietary supplements and pharmaceuticals, announced today that it has signed an exclusive global manufacturing agreement and a research and development agreement with Phoenix Biotechnology.