Agribusiness News - including farming, nurseries, farm equipment and related
eNewsChannels NEWS: -- It's the time of year when Schnepf Farms in Queen Creek transforms into a magical winter wonderland. The east valley mainstay has partnered for the fourth year with World of Illumination - known for producing the largest drive-through light shows in the world - to present Christmas at Schnepf Farms, opening to the public on November 25, 2022.
eNewsChannels NEWS: -- Jonathan Grammer, CEO of U.S. Carbon Capture, will present on the issue of Carbon Capture and Storage to Texas land and mineral rights owners November the 18th in Austin, Texas. The presentation will be part of the 7th Annual Land and Mineral Owner's Symposium hosted by Austin law firm Graves, Dougherty, Hearon & Moody.
eNewsChannels NEWS: -- Superior Fresh, America's first land-based Atlantic salmon farm, is pleased to announce three new, coast-to-coast ways to enjoy their heart-smart Atlantic salmon. Retail-ready frozen premium fillets, burgers, and dips are now available nationwide at select retailers and online.
eNewsChannels NEWS: -- JACKSONVILLE, Fla., Sept. 16, 2022 (SEND2PRESS NEWSWIRE) -- When Adalyn Cooper finally decided to improve his privacy last week, the first idea was to build a fence. However, when Cooper sat down to plan his wall, the homeowner realized a wall was impossible until he removed four trees in the way of the property development project, said Jacksonville Tree Service Experts.
eNewsChannels NEWS: -- FeverTags® LLC of Dallas, Texas has partnered with Digi International to unveil a new connected data tag that detect disease within cattle before it spreads to the herd. The new connected data tag collects and records animal data such as health, treatment, identification, location, and ownership chain, providing a Cattle Passport®.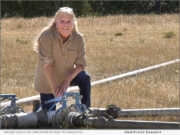 eNewsChannels NEWS: -- Encore Green Environmental LLC (EGE), announce their immediate plans to treat produced water for beneficial use with Texas agriculture partners, with NOMAD EXCEL water technology developed specifically to assist in drought conditions. EGE is proud to announce today that their years of dedication to this goal has not been in vain.
eNewsChannels NEWS: -- As harvest kicks off in Napa this week, Domaine Carneros Winery is pleased to announce the appointment of Tim Rowe, seasoned viticultural expert with over a decade of impressive positions within the California wine industry, to the position of Vineyard Manager. Succeeding Alberto Zamora, who is retiring after a 40-year career in the wine industry, ten of which were spent transforming the vineyards at Domaine Carneros, Rowe states that his new position is a viticulturist's dream.
eNewsChannels NEWS: -- The Central Grasslands Roadmap community of organizations is embarking on an 8-week social media campaign called "Grasslands and You" that enlists the collective, coordinated voices of individuals and organizations to spread the word about the importance of grasslands and the benefits they provide. The announcement comes from Bird Conservancy of the Rockies, one of the Roadmap partners.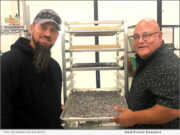 eNewsChannels NEWS: -- Interviewing sustainable food and beverage businesses across the U.S. is Danielle Keogh's, co-founder, 444, LLC, passion. The latest tour of the northwest U.S. Keogh learned that mushroom cultivation and usage is advancing.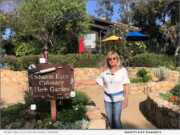 eNewsChannels NEWS: -- Danielle Keogh, co-founder, 444, LLC, a business passionate about the culinary art of functional beverage and expert mixology, continues a nationwide tour interviewing sustainable businesses within the food and beverage industry. While exploring the U.S.'s southwest, Keogh discovered Alta Vista Botanical Gardens (AVBG), a treasure trove of plant medicine.