Agribusiness News - including farming, nurseries, farm equipment and related
eNewsChannels NEWS: -- "Garden Design Recipes: Design Without the Designer" (ISBN: 978-1734260007) by April Harden is a DIY-garden design book that provides easy-to-follow instructions. Set up in a recipe-style format, there are garden design recipes for how to create 75 different gardens in multiple zones across the country.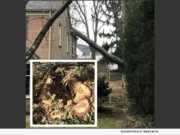 eNewsChannels NEWS: -- It's late on Friday afternoon, and a Glenside homeowner is out running errands when her cell phone starts dinging with text messages. She checks her phone to find alerts from her neighbors: a tall Hemlock Tree has crashed down onto her house in the 60 mph wind gusts! Thankfully Giroud Tree and Lawn's ISA Certified Arborist, Mike Chenail was able to assess the tree ASAP.
eNewsChannels NEWS: -- It's 7 am on a chilly Wednesday morning in February. Giroud Lawn Care Technician, Bill Krowchena, climbs into his lawn service truck with a large Dunkin Donuts coffee. He takes a sip before he starts paging through his clipboard and notes. "We have a lot of stops today, so I need my coffee!"
eNewsChannels NEWS: -- Casa Romantica Cultural Center and Gardens, an award-winning southern California 501(c)(3) nonprofit, celebrated the opening of its new exhibit on display at John Wayne Airport on Saturday, February 8.
eNewsChannels NEWS: -- A dead tree branch is often a signal of a hidden health issue, and if a tree has a lot of deadwood it could be a big problem! Insect invasions, disease, and poor root systems are just a few reasons why a tree might be in distress, says Giroud Tree and Lawn. Here are a few tips to help homeowners spot problems and take action.
eNewsChannels NEWS: -- EPIC Insurance Brokers and Consultants, a retail property and casualty insurance brokerage and employee benefits consultant, announced today they are expanding their insurance offering in the Farm & Ranch Insurance market with the practice being led by Chris Moore (President, EPIC Farm & Ranch).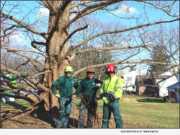 eNewsChannels NEWS: -- The start of a new year is the perfect time to schedule a full property evaluation with an ISA Certified Arborist and Lawn Care Expert. After a compete inspection, they can develop a step-by-step plan to revive the property this year. From Pruning trees to starting a lawn care program, homeowners can breathe new life into the yard and garden.
eNewsChannels NEWS: -- The California Farmland Trust (CFT) is pleased to announce Katie Otto as their new Development and Operations Director. She joins the CFT team after 12 years with the California FFA Foundation (Foundation) and brings her deep roots and experience with agriculture, fundraising and finance management to the organization.
eNewsChannels NEWS: -- 4Ry Inc. announced today that 4Ry® and Texas A&M AgriLife Research have signed a research agreement. They will collaborate with the USDA's Agricultural Research Service (ARS) to more efficiently and effectively spray cattle to eliminate cattle fever ticks.
eNewsChannels NEWS: -- Indoor Harvest Corp. (OTC: INQD / OTCMKTS:INQD) announced today the development of the 2020 New Outlook Plan along with impending initial ventures/agreements validating Indoor's approach to leverage a variety of factors making Indoor an attractive venture, merger, technology, partner through its public company platform.