Home
Arts and Entertainment
Performing Arts News including live events, concerts, stage and festivals
eNewsChannels NEWS: (FREMONT, Calif.) -- EGW Publishing, established 1979, is proud to announce the release of its newest book, "Poets About Poetry: Interviews with Contemporary American Poets" by H. Philip Hsieh. 14 renowned poets, including four Poets Laureate of the United States, a Nobel Prize winner (chemistry), three Pulitzer Prize Winners and other prestigious poetry award recipients are presented in this book of interviews.
eNewsChannels NEWS: (LOS ANGELES, Calif.) -- Feraz Ozel, a "brown" comedian, is a light-hearted performer driven by passion, and intelligence, says Uproar Entertainment. His is a diverse and energetic brand of insightful comedy that connects with people from all walks of life. He prides himself on putting on a show that will make you laugh till it hurts, think about a few new things, and remember that regardless of our vast differences, we can all come together for a night of comedy.
eNewsChannels NEWS: (LAGUNA BEACH, Calif.) -- The Laguna Art-A-Fair announces a Call for Artists Jury Day with an opportunity to join one of California's premier summer fine art festivals. Artists and artisans may enter three pieces of their original artwork along with a jury fee from 8 - 11 a.m. at the Boys and Girls Club. For over 50 years the Laguna Art-A-Fair has enabled established and emerging artists to display their best creations to the tens of thousands of art-lovers that visit Laguna Beach each summer.
eNewsChannels NEWS: (LAS VEGAS, Nev.) -- A newly discovered piece of Andy Warhol History is up for sale by The Metallic Art Gallery on eBay. It shows the great artist's name as Andrew Warhola in a student honor roll document deserving of an Honorable Mention for his performance in his first semester of the ninth grade at Schenley High School in Pittsburgh.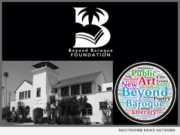 eNewsChannels NEWS: (VENICE, Calif.) -- Beyond Baroque, one of the nation's leading independent Literary Arts Centers, is planning a year-long celebration of its 50th anniversary in 2018. Guided by the nonprofit's Executive Director, Richard Modiano, and council of prominent artist-curators, a program of activities commencing January 1, 2018, will take place at Beyond Baroque's Venice location and in venues throughout Los Angeles.
eNewsChannels NEWS: (BEVERLY HILLS, Calif.) -- "The Gold Thinker," an Andy Warhol original painting, a Gold Marilyn comparable masterpiece, to be auctioned online with eBay for Charity November 7 - 17, 2016, Michael P. Wilson, the painting's owner, announced this week. eBay For Charity will host the auction.
eNewsChannels NEWS: (LAS VEGAS, Nev.) -- A nine-foot-tall trophy featuring a large gold and sienna head of Donald J. Trump on a gilded plinth is scheduled to be dedicated in Las Vegas next month before the election. The monumental statue, believed to be the World's Largest Participation Trophy, in honor of Donald Trump's presidential run, was sculpted by the commissioned artist Daniel Edwards. The dedication is scheduled for November 4, 2016 announces Cory Allen Contemporary Art.
eNewsChannels NEWS: (LOS ANGELES, Calif.) -- Controversial music and visual artist NEO 10Y today released a three-part concept film depicting the death of presidential candidate Donald Trump. The six minute documentary style film "NEO 10Y vs. NIHIL: The Kid That Killed Trump (A Concept Film)" shows the story of a drug forlorn Times Square Mickey Mouse impersonator convincing Donald Trump to end his life. (NSFW)
eNewsChannels NEWS: (NEW YORK, N.Y.) -- The Event Planner Expo, is back! This Wednesday, October 5, 2016, EMRG Media is hosting The Event Planner Expo at The Metropolitan Pavilion. The Event Planner Expo is known to have the best venues and services in the event planning industry as well as an exclusive speaker series.
eNewsChannels NEWS: (NEW YORK, N.Y.) -- The Pit Stop Players, a celebrated instrumental chamber ensemble composed of veteran Broadway pit musicians, launch their seventh season with a concert of fantasy-themed music at Good Shepherd-Faith Presbyterian Church, 152 West 66th Street, on October 24, 2016 at 7:30 p.m.