Entertainment Industry News and Related Business News
eNewsChannels NEWS: -- Casita Maria Center for Arts & Education is proud to present College & Career Expo: Dream It & Be It! The College & Career Expo offers students a chance to learn about higher education and careers they might be interested in.
eNewsChannels NEWS: -- Casita Maria Center for Arts & Education, in partnership with Pregones Theater, is proud to present "We Have Ire," a free excerpt performance of the multi-disciplinary theater project, on March 9, 2019, 2 - 2:45 p.m. The performance combines spoken word and theater produced by Cuban-American writer, performer, Doris Duke; Artist and San Francisco resident Paul S. Flores.
eNewsChannels NEWS: -- Edward Johnson aka Dr. Love - that's Dr. the Real Deal Love - founder of Love University, and author of the workbook, "3 Things Every Woman Needs to Know about a Man" (ISBN: 978-1928681526) is quickly gaining credibility in the relationship industry and rapidly becoming one of the premier authorities on dating, love and romance.
eNewsChannels NEWS: -- IN CONCERT: Friday, February 8 - 8 p.m. - UCPAC's Hamilton Stage in Rahway, N.J. The group of people (over 100+ voices) that make up the powerhouse choir, JUBILATION, are a force in the industry.
eNewsChannels NEWS: -- Outvisible Theatre Company presents David Ives' award-winning "Venus in Fur" - running February 14 through March 3, 2019. "Venus" is a modern take on Leopold von Sacher-Masoch's "Venus in Furs," an 1870 novella which draws on themes of female dominance.
eNewsChannels NEWS: -- The Senior Artists' Art Exhibit - Collection from the Treasure Chest, held by H.H. Dorje Chang Buddha III Cultural and Art Museum, had its Grand Opening at the museum on January 26, 2019. Senior painting artists from both the main-stream and Chinese societies in many cities, turned their rich live experiences into color brushes, and they sketched, outlined and drew their ideologies and expectations about mankind and the world into wonderful paintings, painting the splendid world in their eyes and showed the richness and colorfulness of the spiritual lives of theirs.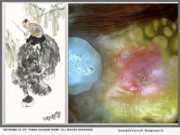 eNewsChannels NEWS: -- Rare Art, Inc. in Covina, California, announces the solo exhibition of Dr. Yuhua Shouzhi Wang, a noble international art master whose accomplishments has been appraised by the United States Congress and art scholars of world authorities, has been held world-wide - including China, San Francisco and currently in Thailand - in efforts to develop cultural exchange between the East and the West.
eNewsChannels NEWS: -- J.S. Fletcher and Kathy Newbern, founders of YourNovel.com, are still going strong after nearly three decades of personalizing romance novels for couples far and wide. Imagine you and your Sweetheart starring in a book. How romantic. YourNovel.com offers more than 50 romantic novels to select from.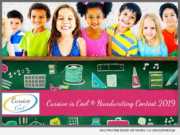 eNewsChannels NEWS: -- The annual Cursive is Cool(R) contests for 2019, under the auspices of the American Handwriting Analysis Foundation, will launch on National Handwriting Day, celebrated around the world on Jan. 23 each year. Cursive writing continues to enjoy increased appreciation in the United States and around the world. Scientific studies reveal the benefits of writing by hand to positively impact motor skills, cognitive development and improved learning outcomes such as better recall and retention for young learners.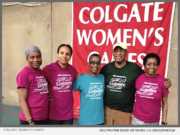 eNewsChannels NEWS: -- From an initial field of thousands, some 445 girls and young women from elementary-school-through-college and beyond, have persevered through four preliminary meets at Pratt Institute and scored points to earn a spot in the semi-finals of the nation's largest track series for women, the 45th anniversary Colgate Women's Games Track and Field Series (Jan. 5-7, 2019).