Entertainment Industry News and Related Business News
eNewsChannels NEWS: (YOUNGSTOWN, Ohio) -- Black Streak Entertainment, LLC has developed a new mobile cooking app that has changed the way kids and families cook, eat, and view food called the Black Streak Kitchen App. Through this app, the company publishes recipes in the form of comics featuring their original characters that teach kids, teens, parents and families about cooking, nutrition, world cultures, health and wellness.
eNewsChannels NEWS: (BERGENFIELD, N.J.) -- Nunnbetter Dance Theatre (NDT), one of Bergen County, New Jersey's premier dance schools, is proud to announce that all three ensemble pieces entered into the Youth America Grand Prix competition earlier this year were awarded a spot in the NYC Finals taking place April 8 and 9, 2017 in New York City.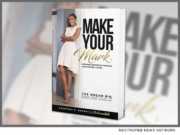 eNewsChannels NEWS: (NEW YORK, N.Y.) -- The Oracle Group International is thrilled to announce the publication of "MAKE YOUR MARK: Personal Branding Through 'On-Purpose' Living" (paperback; on sale March 14, 2017; $20; ISBN: 978-0692833919) by award-winning, brand strategist, entrepreneur and author Courtney R. Rhodes.
eNewsChannels NEWS: (MANHATTAN, N.Y.) -- Spring always makes super foods author Stephanie Pedersen dig her fingers into dark, rich earth and plant anew. That's why she launches her week-long blog party, "Spring Back to Roots," on the first day of Spring, March 20, 2017. The event celebrates the publication of her latest book, "Roots: The Complete Guide to the Underground Superfood" (ISBN: 978-1454921424).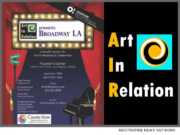 eNewsChannels NEWS: (LOS ANGELES, Calif.) -- Jonas Sills, founder and executive producer of Art-In-Relation (A.I.R.), announces a grand benefit performance of "Broadway-LA." After three successful seasons of theater in the Long Beach area, Art-In-Relation made its move to Los Angeles with two acclaimed productions, "Andrew Lippa's Wild Party" and "Frankenstein, A New Musical" in the fall of 2016. They were honored to receive rave reviews and an "Ovation Recommendation" from the LA Theater Alliance.
eNewsChannels NEWS: (MILWAUKEE, Wis.) -- Minnesota poet Georgia Lundeen, who made a name in verse through her popular blog Shrinks Aren't Cheap, is set to release her first physical collection of works, titled "Spare" (ISBN: 978-1-940129-69-3), on April 21, 2017, Vegetarian Alcoholic Press announced today.
eNewsChannels NEWS: (HOLLYWOOD, Calif.) -- Steve Comisar is living proof that nothing is impossible. With close to one million Twitter followers and over one million YouTube video views, former actor Comisar has become a highly popular "social media celebrity." This is because former-actor Comisar is the only U.S. actor that is also a "famous con man."
eNewsChannels NEWS: (SOUTHBURY, Conn.) -- Nationally renowned Southbury Connecticut artist-historian Don Troiani has unveiled his painting of the momentous Boston Massacre. That encounter on a cold March night set forth a series of antagonistic events that climaxed in the start of the American Revolution 5 years later.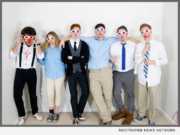 eNewsChannels NEWS: (SARATOGA SPRINGS, N.Y.) -- Combining the musical swagger of The Strokes, the DIY ethic of Black Flag, and the manic hair on fire delivery of Talking Heads, Delphino is a gritty indie rock band that just wants to get out of the basement and into your heart. Keeping the punk spirit in mind, over the past year Delphino has gone from playing in friends' basements and house parties to recording, mixing, and self-distributing their debut album, "Funny Cide," across New York.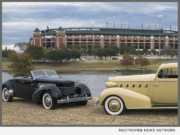 eNewsChannels NEWS: (ARLINGTON, Texas) -- The Concours d'Elegance of Texas announced that it will hold its annual three-day vintage car celebration event in the Arlington Entertainment District (previously hosted in the Houston area). The Concours d'Elegance of Texas is one of the largest vintage motoring and luxury lifestyle events in the state, a world-class gathering of collector cars and vintage motorcycles in a wonderful park setting.