Indiana Business News, Entertainment, and Technology News (U.S.)
eNewsChannels NEWS: -- An idea for a new medical device for foot pain surfaced when podiatrist Dr. Patrick DeHeer suffered from posterior tibial tendonitis - a common foot and ankle problem - after taking up running. Since traditional treatment options weren't efficient or effective enough, DeHeer and his partners formed IQ Med LLC and developed The Equinus Brace.
eNewsChannels NEWS: (INDIANAPOLIS, Ind.) -- Financial Technologies & Management (FTM) has released the dates and agenda for 2017 Nonprofit Forum monthly online event for nonprofit organizations. Jim Simpson, CPA will host each forum. Mr. Simpson is a nonprofit financial leader and trainer, CFO, Controller, and software advisor for over 25 years.
NEWS (INDIANAPOLIS, Ind.) -- Artist Daniel Edwards will unveil what he believes is the First Virtual Reality Monument, one that honors Michael Phelps's legacies as Olympian and father, featuring new son Boomer. Unveiling of The First Virtual Reality Monument is scheduled for November at Irv Art gallery in Indianapolis, announces Cory Allen Contemporary Art.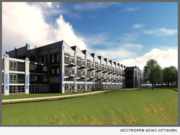 NEWS (TERRE HAUTE, Ind.) -- Core Redevelopment, LLC has announced that it has agreed to redevelop the historic American Can building near downtown Terre Haute, Indiana, into approximately 178 loft-style, market-rate apartments known as One Sycamore. In partnership with the City of Terre Haute, Indiana State University and the Indiana Economic Development Corporation, Core Redevelopment's $23 million investment will breathe new life into this long-vacant but important historic landmark.
TERRE HAUTE, Ind. -- Verdeco Recycling Midwest today announced a new Indiana recycling manufacturing plant to be located in the Vigo County Industrial Park I, Terre Haute, Indiana. Building modifications are nearly complete with plant start-up anticipated to be June 2016, with full employment by late summer.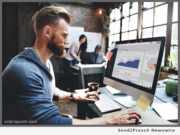 INDIANAPOLIS, Ind. -- A revolution in the way huge amounts of information are quantified and interpreted is leading to massive benefits for companies that heretofore had no access to such services. According to Casey Gauss of the Viral Launch Research Division, forecasting and planning tools that were once only available to big corporations with expansive IT budgets can now be accessed by smaller companies.
NEWS: (TERRE HAUTE, Ind.) A search committee tasked with finding a replacement for the retired director of the Terre Haute Department of Redevelopment will recommend that the Terre Haute Economic Development Corporation (THEDC) assume management of the department. The recommendation will be made at the April 20, 2016 meeting of the City of Terre Haute Redevelopment Commission.
NEWS: (TERRE HAUTE, Ind.) The City of Terre Haute, Ind., and its program partner, the Terre Haute Department of Redevelopment, have approved 27 vacant/blighted residential properties for demolition through Round Two of Indiana's Blight Elimination Program (BEP).
SAINT LOWELL, Ind. /eNewsChannels/ -- NEWS: TV Star and lead expert of the hit cable television show 'Hoarders,' Cory Chalmers, will be making a special guest appearance at his newest Steri-Clean franchise. This franchise owned by Gary Hofer and Tony Moser is hosting the Crossroads Regional Chamber of Commerce for a ribbon cutting on Friday October 17 and is inviting the public to its grand opening / open house on Saturday Oct. 18
LAPORTE, Ind. /eNewsChannels/ -- NEWS: Expresso Satellite Navigation, Inc. is proud to debut the first of their Links and Luxury Series watches at the 2014 PGA Merchandise Show. The new Luxury Titanium GPS Golf Watches are equally at home on the course or on the town. The WR72 Alpha utilizes its own proprietary forged Titanium alloy that is 30 times stronger than steel, extremely light weight and is 100 percent hypoallergenic.