eNewsChannels NEWS: -- From Thursday, August 5 to Saturday, August 7, the Colorado Trial Lawyers Association (CTLA) held its annual convention. While they offered virtual attendance, they also hosted the conference in person in Steamboat Springs, Colorado. The Strategic Capital team joined them at The Steamboat Grand for the hybrid event, which was themed "Conquering New Horizons Together."
eNewsChannels NEWS: -- CDF Labor Law LLP (CDF) proudly congratulates seven partners who were recognized in The Best Lawyers in America© for 2022 and four associates who were recognized in the 2022 Best Lawyers in America© "Ones to Watch" for various employment-related practice areas from metropolitan areas throughout California.
eNewsChannels NEWS: -- The stories are endless of jobs suddenly gone forever and families struggling to get by. As cities across the nation continue to deal with the economic fallout from the COVID-19 pandemic, employees at CDF Labor Law LLP (CDF) got busy partnering with food banks and programs aimed to get food into the hands of hungry communities.
eNewsChannels NEWS: -- NotaryCam®, a Stewart-owned company and a pioneering provider of remote online notarization and identity verification / authentication technology for real estate and legal transactions, today announced it has partnered with RUTH RUHL, P.C., a Texas-based law firm, to add security and automation to the firm's loss mitigation services through remote online notarization (RON).
eNewsChannels NEWS: -- Two high school juniors, from low to moderate income families in Santa Ana are about to get a significant boost to their career path from CDF Labor Law LLP, a California-based labor, employment, and immigration law firm who will sponsor them for an eight-week, paid internship. This is CDF's 10th year participating in Project SELF mentoring program of at-risk youth.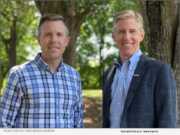 eNewsChannels NEWS: -- DELTA |v| Forensic Engineering, Inc.™ announced today that they have appointed Heath Spivey, Manager of the Nashville Regional Office, as the new President of DELTA |v| Forensic Engineering, Inc.™, effective January 1, 2022.
eNewsChannels NEWS: -- Estes-Hightower PLLC, a Houston law firm, has attorneys that are available through monthly retainers or as some call them, legal subscriptions. The law firm recruits attorneys across Texas with credentials broad enough to cover a variety of legal issues.
eNewsChannels NEWS: -- Los Angeles and Las Vegas are the cities where the most searches to a leading court records website originate from. Data taken from courtrecords.us.org shows that other areas which have seen the largest numbers of searches include Houston, New York, and Dallas.
eNewsChannels NEWS: -- The shareholders of MondoBrain have brought to a successful close a derivative lawsuit against its former CEO. As a result of a mutual settlement agreement, Augustin Huret is no longer affiliated with the company and has no ownership stake.
eNewsChannels NEWS: -- LeMaster & Ahmed PLLC has announced that Rachel Anthony, a personal injury attorney, has recently joined their Houston area office of LeMaster & Ahmed PLLC. The law firm focuses on personal injury cases and has offices in The Woodlands, Texas and Plano, Texas.