Pets News, including Animals, Veterinary News, and Related Topics
eNewsChannels NEWS: -- JaneUnChained News Network, a 501(c)(3) based in Los Angeles, announces that animal lovers across the nation are expressing their disappointment and disgust over the glorification of fur by CBS during its Super Bowl halftime show as rapper Big Boi appeared drenched in fur. In a tragic irony, the word LOVE then filled the screen.
eNewsChannels NEWS: -- Pet health products company, Pet King Brands, Inc. - the maker of veterinarian-recommended brands ZYMOX(R) Dermatology and Oratene(R) Brushless Oral Care - celebrates 20 years of helping pets find relief from problematic ear, skin and mouth conditions.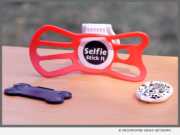 eNewsChannels NEWS: -- Get in the picture with your pets using Pet Selfie Stick-It, a new invention from Fromm Works, Inc. that conditions pets to look at a smartphone located up to 20-feet away. Utilizing Pavlovian conditioning the kit includes a treat tray that holds the pet's favorite treat.
eNewsChannels NEWS: (MYRTLE BEACH, S.C.) -- Everyone knows "cats rule," not only online but in millions of feline-loving households. As it turns out, at the upcoming BlogPaws Conference taking place in Myrtle Beach, South Carolina from May 18-21, 2017, the cat presence will also include several celebrity cats of Instagram, play host to the Cat Writer's Association, prominent cat brands like PawCulture and feature Hauspanther founder and New York Times best-selling author, Kate Benjamin.
eNewsChannels NEWS: (MURIETTA, Calif.) -- The Tenaja Environmental Concerns Association (TECA) is requesting a call to action from Riverside County public officials to stop issuing kennel permits in Residential and Equine neighborhoods. It says that the existing ordinance needs to be updated to address specific property rights of surrounding residents and to introduce additional conditions to safeguard them from the negative impact these kennels present to these communities.
eNewsChannels NEWS: (LA MESA, Calif.) -- Legalize Ferrets, a California organization that continues to advocate for ferret legalization in the state, has a watchful eye on The California Fish and Game Commission this month. Why? The commission is set to consider issuing permits for ferrets during its April 26, 2017 meeting in Van Nuys, Calif.
NEWS: (WASHINGTONVILLE, N.Y.) The Wigglebutt Warriors are set to put the 'fun' in fundraising, as the creative duo hosts the sold-out, red carpet 'Wigglebutts Uncorked' pet-welcoming gala on Saturday evening, April 16, 2016, to benefit NYC Second Chance Rescue.
NEWS: (TAMPA, Fla.) Tom Krueger, owner of Brayfield's Farm, recently provided the Lowry Park Zoo in Tampa with a rare French Poitou Donkey named Geraldine. The livestock conservancy lists the Poitou Donkey as critically endangered. In fact, in 1980, it was estimated that there was fewer than 80 of these delightful animals in the world.
NEWS: This 2015 holiday season will be much brighter for the 7.6 million pets that enter shelters across the United States every year. Only Natural Pet is partnering with BlogPaws Be the Change for Pets to donate 5 percent of all qualifying purchases to help pets in need through December 31, 2015.
NEWS: Going green is not only the right thing to do but also cool, hip, environmentally responsible, and ripe for disruption. Shaking things up with a near zero-waste successful initiative, BlogPaws, in conjunction with Pet Industry Sustainability Coalition (PISC) and Only Natural Pet, recently surpassed goals and made pet industry history.