SACRAMENTO, Calif. /California Newswire/ — The Gulf tragedy and environmental catastrophe now unfolding off the coast of Louisiana further highlights why new offshore oil drilling off the California coast should not be allowed according to Assemblymember Pedro Nava (D-Santa Barbara). "There is a lesson to be learned from this tragic loss of life and catastrophic spill in the Gulf," said Assemblymember Nava. "This horrific incident, claiming 11 lives, pouring 1,000 barrels of crude a day into the ocean, and spreading over 28 thousand square miles should serve to remind us all why the State of California has not allowed any new drilling in state waters for the last 41 years."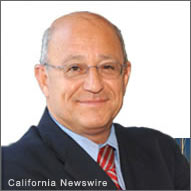 Nava has led the opposition of more than 100 environmental groups to a proposal by Plains Exploration and Production Company (PXP) to drill for oil in California Coastal Sanctuary Waters on a platform located only 3 miles from the Santa Barbara coast. If this proposal is approved, it would be the only new offshore oil drilling in state waters on the entire West Coast.
The PXP "Tranquillon Ridge" proposal was rejected last year on a 2 to 1 vote by the three-member California State Lands Commission (SLC) because it had unenforceable public benefits, dubious environmental mitigation, and it significantly increased the risk of oil spills off the coast.
Assemblymember Nava continued, "The proposal offered by the Environmental Defense Center and PXP would allow 28 to 30 new oil wells less than 3 miles off the California coast. The Gulf spill is 40 miles from land. Imagine if a spill of the magnitude now occurring in the Gulf happened from PXP's rig."
This year marked the 41st anniversary of the Santa Barbara oil spill when more than 3 million gallons of oil choked 35 miles of California's coastline causing a path of destruction never before seen in our nation's history. The carcasses of dolphins and seals washed ashore and countless birds, fish and other wildlife were drenched in oil. The spill and its aftermath galvanized the country, raised environmental awareness, and was the catalyst to the modern environmental movement in the United States.
On Friday, April 30, at Hermosa Beach City Hall, in Hermosa Beach, California, from 1pm to 4pm, Assemblymember Nava, Chair, of the Assembly Committee on Environmental Safety & Toxic Materials, will conduct an investigative hearing regarding the public health and environmental threats posed by oil drilling. Regulators, oil Industry, environmental and community representatives will be testifying.