SAN FRANCISCO, Calif. /California Newswire/ — Mayor Edwin M. Lee today announced today a partnership with Code for America to launch the world's first Civic Startup Accelerator. Based in downtown San Francisco, the Code for America Accelerator will support entrepreneurs that launch companies to make City government more responsive, efficient and connected. Tapping into the high tech entrepreneurial spirit and talent in San Francisco to improve government is included in Mayor Lee's 17-Point Roadmap to Good Jobs and Opportunity.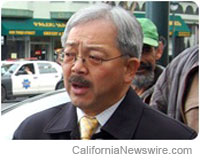 "San Francisco is home to some of the world's greatest entrepreneurs, the ones who have 'disrupted' numerous industries and made our City a hub for innovation," said Mayor Lee. "The challenge now is to bring those same disruptive technologies to make government more accountable and engaged, and make San Francisco, the world's first City 2.0."
"Rather than passively hoping that innovation trickles into our City's bureaucracy, we are proactively establishing relationships with the many innovative sectors in order to tap into the best ideas, talent, funding sources and other resources that will improve City government," said Board of Supervisors President David Chiu.
A San Francisco based nonprofit, Code for America (CfA) helps governments work better with the people and power of the web. Over the past two years, it has worked with dozens of cities and hundreds of developers to build innovative technology for government. This new initiative, the CfA Accelerator, will help make those innovations – and others like them – sustainable, scalable, and profitable.
"Together with the City of San Francisco, this year we will be opening the doors to City Hall to the country's great entrepreneurs," said Code for America Founder Jennifer Pahlka. "As we've seen from disruptive companies like TurboTax, SeeClickFix, and Socrata, there's a real opening for new businesses in the civic space; we want to turn those examples from the exception into the norm. We want entrepreneurs everywhere asking, 'How can I disrupt government?'"
The CfA Accelerator has already received strong support. Google and the Kauffman Foundation have provided the initial funding to launch the program, and angel investor Ron Conway has agreed to advise the program and mentor the startup companies.
The Code for America partnership will include: identifying opportunity areas within City Hall, hosting a Citywide app competition where teams compete on prototyping solutions, and selecting the winning applications which will enter the Accelerator. Also, during the program, the City will help the startups test and refine their products. Code for America will be reaching out to other cities to join San Francisco in this partnership.
The CfA Accelerator will begin with an open call for applications from startups in the Spring, and launch its first acceleration cycle in Fall 2012.
More information on the CfA Accelerator, go to: codeforamerica.org/accelerator .
Mayor Lee also announced the first of its kind appointment in the nation of Jay Nath as the City's first Chief Innovation Officer in the Mayor's Office, a role established by Mayor Lee to introduce new ideas and approaches to make City government more transparent, efficient and constituent focused. Jay Nath has been with the City for five years in his previous role as Director of Innovation with the Department of Technology and has led the City's Open Data efforts and is well regarded in the Gov 2.0 space. The Chief Innovation Officer will continue working closely with the Department of Technology and other City agencies to ensure that technology is a driver of change in City government and support the Mayor's initiatives to engage the tech industry in boosting job creation and civic participation in San Francisco.
Mayor Lee's 17-Point Roadmap to Good Jobs and Opportunity includes making government more responsive and effective. By making government data – from Muni GPS locations to library hours – available to programmers through the City's DataSF initiative, innovative new apps and programs were created that City government never dreamed of. Mayor Lee will go further, opening up the City's small business permitting and licensing systems to the army of programmers and web designers in the City to help make them more efficient and easier to navigate for every business and resident through open source solutions.