WALNUT CREEK, Calif. — The 2008 National WinBill Users Group Conference focused on how companies can maximize their WinBill ROI (Return on Investment). WinBill customers learned strategies to further automate their inventory management, audit phone bills, reporting and allocation of expenses, according to TeleManagement Technologies, Inc. Customers shared how WinBill has completely automated their TEM process in some cases reducing headcount from 7 to 2 analysts. Others spoke of how WinBill was able to demonstrate over a million dollars in annual savings by identifying billing errors, late payment fees and reduced headcount.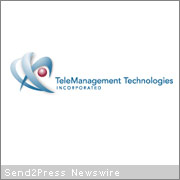 The event featured customer and industry expert speakers, with subjects including WinBill success stories, case studies and best practices. Susan McNeice, Global Program Manager of communications industry software at Stratecast, a division of market research firm Frost & Sullivan, spoke on changes occurring in carrier billing and TEM. Regarding the event, McNeice said, "Congratulations on a successful event. I can't say I have ever witnessed customers applauding their vendors so freely; you obviously have great relationships in place."
"After the remarkable success of our 5th Annual 2008 National Users Group Conference in San Antonio, Texas we look forward to next year's conference. This further demonstrates the strategic value WinBill has for our customers," said Mark Hearn, President, TeleManagement Technologies, Inc.
About TTI
TeleManagement Technologies, Inc. (TTI) is an experienced, leading telecom expense management software solutions company. Since 1987, TTI has demonstrated its ability to quickly adapt and develop solutions for ever-changing telemanagement challenges. TTI's product offerings can be delivered in various formats: licensed, hosted/web-based or completely outsourced. TTI's clientele includes many Fortune 500 companies in various industries (technology, services, financial, entertainment, manufacturing and more), as well as many government and utility organizations.
TeleManagement Technologies' website is http://www.winbill.com.
[tags]National WinBill Users Group Conference, TeleManagement Technologies Inc[/tags]