eNewsChannels NEWS: -- NotaryCam®, the pioneering leader in online notarization and original provider of mortgage eClosing solutions, today announced that it has seen a 10X-increase in the number of remote online notarization (RON) transactions the company has performed for electronic wills (eWills) thus far in 2020.
eNewsChannels NEWS: -- Spodak Dental Group and Operation Gratitude are teaching kids the value of giving back by donating their Halloween candy in support of troops overseas and local heroes. The team was able to collect more than 250 pounds of candy from local children and schools' groups.
eNewsChannels NEWS: -- The inventor of the Ruby Slipper Car Seat Cover, Katherine Miles, explains that this seemingly-simple product-essentially, two pieces of slippery fabric-has proven to be a key part of a continuum of care for seniors with limited mobility and for persons recovering from injury or surgery.
eNewsChannels NEWS: -- DocMagic, Inc., the premier provider of fully-compliant loan document preparation, regulatory compliance and comprehensive eMortgage services, announced that Southeast Wisconsin-based Community State Bank has implemented its full suite of eClosing solutions to transform the bank's mortgage closing process, making it 100 percent digital.
eNewsChannels NEWS: -- Bright Road Recovery, the Inland Empire's Premier Eating Disorder Treatment Program, announced today that they are now in-network with Magellan Healthcare. This is good news for Blue Shield subscribers in the Inland Empire who are looking for help with anorexia, bulimia, binge eating disorder, or ARFID.
eNewsChannels NEWS: -- PCS International (PCS), a Chicagoland based technology service provider, is excited to announce that it has been named the exclusive provider to all clients of RSM Computer Services (RSM) for technology service, support, and maintenance services.
eNewsChannels NEWS: -- Indiana 5G Zone and Edge Technologies are excited to announce a groundbreaking partnership to rapidly enable practical 5G research that leads to deployed solutions that offer tangible value for businesses and communities alike.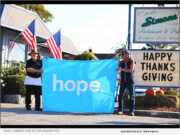 eNewsChannels NEWS: -- This Thanksgiving, Gary Simons of Simply Simons restaurant in Swansea, MA, and Peter Moubayed, owner of NorthEast Fleece in Fall River, MA, will deliver homemade hot turkey dinners, warm fleece blankets and a much-needed message of hope.
eNewsChannels NEWS: -- RMA is proud to announce that their city clients won three of the fourteen awards bestowed by the Florida Redevelopment Association, including the prestigious President's Award. RMA provides staffing services for the West Palm Beach CRA and provides economic development and real estate consultancy services for the City of Deltona. The FRA award ceremony was presented virtually on November 19, 2020.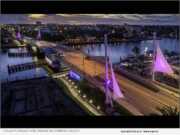 eNewsChannels NEWS: -- The Pompano Beach CRA is proud to announce that the Atlantic Boulevard Bridge Enhancement is the 2020 winner of the Best Transportation Transit Enhancement category at the annual Florida Redevelopment Association (FRA) Awards, which were bestowed November 19, 2020.