eNewsChannels NEWS: -- Recently, Energy Optimizers, USA co-hosted the E2 "Clean Energy at a Crossroads" event in Dayton, Ohio. In true energy-optimized fashion, the event was held at a renovated former steam energy plant in downtown Dayton. Energy Optimizers, USA founder and E2 Midwest Chapter Director, Greg Smith and staff organized the event, along with E2 Midwest Advocate Micaela Preskill.
eNewsChannels NEWS: -- On Friday, October 18, the U.S. Green Building Council (USGBC) Louisiana Chapter will host its fourth annual FORWARD Symposium on Sustainability at Tulane University's Lavin-Bernick Center, 29 McAlister Drive New Orleans from 7:30 a.m. to 4:30 p.m. This year's theme, Building a Stronger Louisiana by Nurturing the Next Generation of Sustainability Leaders, will bring green industry professionals from across the region together to discuss how to move the state towards a more sustainable and resilient future.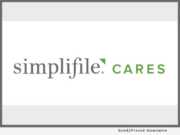 eNewsChannels NEWS: -- Simplifile, a leading provider of real estate document collaboration and recording technologies for lenders, settlement agents and counties, today announced that it is joining the Arbor Day Foundation for the launch of its Time for Trees initiative, a commitment to plant 100 million trees in forests and communities worldwide by 2022.
eNewsChannels NEWS: -- "THE UNIVERSAL GRAIN. Game of Professionals. Society. The Last Chance" to be held on May 11, 2019 beginning at 10 a.m. ET, ALLATRA International announced today. This momentous event will be held at Georgia Aquarium, in the Oceans Ballroom in the city of Atlanta, Georgia, USA.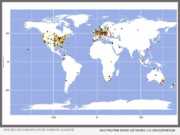 eNewsChannels NEWS: -- Looking beyond the sharks and manta rays that catch the eye of visitors, researchers find great conservation potential in the wealth of fish and corals residing in the world's zoos and aquariums, says Species360 Conservation Science Alliance. A study published this week in Journal for Nature Conservation reports that aquariums hold 21 percent of the coral species that are Vulnerable to Climate Change.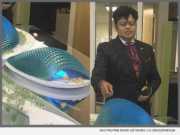 eNewsChannels NEWS: -- Delivering the inaugural Black History Month welcome remarks, Bay Ecotarium and Smithsonian Affiliated Aquarium of the Bay President and CEO, George Jacob shared his vision for the $260 million Climate Literacy and Ocean Conservation Living Museum in the making in San Francisco.
OPINION: RIO was a huge wake-up call that Global Warming has hit the Olympics. Senator Bernie Sanders said in September that global warming is accelerating and more dire than projected. After seeing that August Ties July For Hottest Month Ever (Popular Science), I asked the UN's top Ocean consultant Leonard Sonnenschein, what are the chances of swimming in the Tokyo Olympic waters in 2020, and snow at the 2018 Winter Olympics in South Korea, if our governments do not act quickly enough?
NEWS: (MIAMI BEACH, Fla.) One of the most urgent issues South Florida's municipal leaders must tackle is sea level rise. Faced with inevitable flooding problems. RMA, which is currently planning and redeveloping several cities along the coast, sent their Director of Urban Design and Planning, Natasha Alfonso, to the Southeast Florida Regional Climate Leadership Summit to help their clients stay ahead of the challenge.
OPINION: It was a miracle that Mexico's jewel, Puerto Vallarta, was not wiped off the map with Patricia's 220 mph winds on Friday October 23, and not one life was lost. The U.N. reported that "Patricia had accelerated to that of Typhoon Haiyan, which displaced millions of people and left 7,300 dead in the Philippines in 2013."
WASHINGTON, D.C. /eNewsChannels/ NEWS: The Bureau of Educational and Cultural Affairs will host the 2013 Fulbright Regional Network for Applied Research (NEXUS) Scholar Symposium:...