Home
Tags
Environment and Ecology
Tag: Environment and Ecology
eNewsChannels NEWS: -- Today, the leading third-party risk management platform, Certa, announced its official partnership with the world's most trusted provider of business sustainability ratings, EcoVadis. The integration will allow Certa customers to see the EcoVadis ratings of their third-party suppliers at a glance within one integrated platform.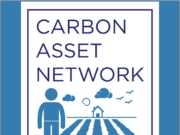 eNewsChannels NEWS: -- Carbon Asset Network (CAN) announces that Oklahoma-based Wurtz & Associates will provide oversight and facilitation of the blockchain-based "smart contracts" related to the recently revealed initiative by CAN. Through an innovative protocol, this process tokenizes land resources for carbon sequestration and protection of the soil and water resources.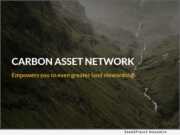 eNewsChannels NEWS: -- Two innovative Cheyenne-based companies, the agricultural Carbon Asset Network and blockchain consultancy group Ember Labs have joined forces to create the new pathway for carbon sequestration and improving air quality by using the power of blockchain. This new model is designed to be a private enterprise alternative to Cap and Trade methods, which have not proved successful since its inception in 2009.
eNewsChannels NEWS: -- The Coalition For A Safe Environment a 20-year old non-profit environmental justice organization headquartered in Wilmington, California after conducting its own independent investigation of potential sources of the toxic Hydrogen Sulfide Gas Leak in Carson is requesting that the federal U.S. Environmental Protection Agency (EPA) take over the investigation.
eNewsChannels NEWS: -- World leaders meet in Glasgow beginning October 31 for the United Nations COP26 Climate Change Conference, to address the conclusions of the latest Intergovernmental Panel on Climate Change (IPCC) report: that human activities have unequivocally warmed and damaged the planet. Share International attributes 80 percent of the warming to human actions, and says sharing resources to mitigate the inevitable consequences is key to solving climate change.
eNewsChannels NEWS: -- Encore Green Environmental names Texas based G-Force to re-furbish the legacy Nomad water treatment technology units to become the improved NOMAD Excel™. Encore Green is an agriculture company dedicated to applying by-product water to beneficial use for agriculture and carbon sequestration.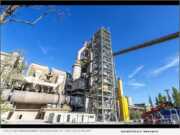 eNewsChannels NEWS: -- Multi-award-winning Australian technology company Calix Limited (ASX: CXL) ("Calix" or the "Company") is pleased to announce global decarbonisation investor Carbon Direct Capital Management has invested €15m for a 6.98% equity stake in Calix subsidiary, the LEILAC Group, which is dedicated to the commercialisation and ongoing development of Calix's LEILAC CO2 capture technology.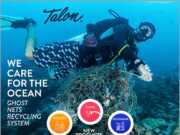 eNewsChannels NEWS: -- After years of meaningful development, Talon International is proud to announce the launch of its innovative Ghost Net Products. The company successfully developed a solution to improving marine habitats by collecting and recycling the surplus of plastic waste that has consumed our beloved oceans.
eNewsChannels NEWS: -- Encore Green Environmental names their first water treatment unit based on the NOMAD technology in honor of Henry "Possum" Elenburg for his pioneering work in treatment of industrial water. In the early 2000's Elenburg conceived that energy industry by-product water could be treated and put to uses instead of simply disposing of it into the ground or though evaporation.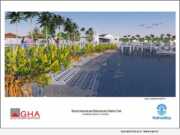 eNewsChannels NEWS: -- Scientists, government officials and citizens concerned about climate change and sea level rise will soon have a new source of data when Wahoo Bay in Pompano Beach launches. This underwater marine park will become a global incubator for the ocean's ecosystem and will test the SEAHIVE™ marine and estuarine shoreline protection system, a research project funded by the National Cooperative Highway Research Program (NCHRP) Innovations Deserving Exploratory Analysis (IDEA) in collaboration with FDOT.