NEW YORK, N.Y. /eNewsChannels/ -- Marriage Visa Help ('MVH'), a global immigration consultancy specializing exclusively in family immigration with an emphasis on fiancee, partner and marriage visas, today announced that postal U.K. marriage visa applications made inside the U.K. can take up to 8-10 months to be processed by the UK Border Agency.
DETROIT, Mich. /eNewsChannels/ -- SafeToSleep, the maker of the breakthrough Sleep and Breathing Baby Monitor capable of monitoring the breathing of a sleeping baby, announced today that consumers can now order the product at the company's website. The long-awaited SafeToSleep system uses advanced fiber optic technology to monitor baby breathing with hospital accuracy and stream the information to an iPhone.
LOS ANGELES, Calif. (SEND2PRESS NEWSWIRE) — Valentines Day is traditionally for lovers but now it is also for laughers as Ruth Roberts Music re-releases the kid-friendly tunes on "Valentine Songs That Tickle Your Funny Bone," now available on iTunes and Amazon. "Good old-fashioned sing-a-longs never go out of style," says Susan Nicoletti, Director of Operations [...]
NEW YORK, N.Y. /eNewsChannels/ -- Parents can meet experts from over 70 summer programs serving children and teens with special needs at the FREE 28th Annual RCSN Special Camp Fair on Saturday, January 26, 2013 from 11 a.m. to 3 p.m. Over 4,000 people attend the Fair every year. The Fair is presented by Resources for Children with Special Needs.
LAS VEGAS, Nev. /eNewsChannels/ -- A new picture book, 'Healthy Hannah's Fitness Fables: A Promise to Yourself' (ISBN: 978-0985277307) published by KidsProsper Publishing, pairs father-daughter authors Jay and Hannah England in the fight against childhood obesity.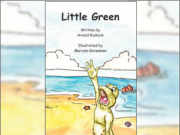 LOS ANGELES, Calif. /eNewsChannels/ -- Author Arnold Rudnick and publisher Paraphrase, LLC, have donated 100 copies of new children's book 'Little Green' (ISBN: 978-0981587974) to the My Stuff Bags Foundation and have pledged all net profits from book sales for the month of December 2012.
SAN JUAN CAPISTRANO, Calif. /eNewsChannels/ -- Surfers Healing, a non-profit working to enrich the lives of children with autism by exposing them to the unique experience of surfing, is competing for grants ranging from $125,000 to $1 Million through the American Giving Awards, presented by Chase. Residents can help ensure their favorite charity's success by simply voting for Surfers Healing through the American Giving Awards program on Facebook.
BRIDGEPORT, Conn. /eNewsChannels/ -- October is the month the kids begin to scratch, says George Coleman, founder and president of Connecticut's Dermedics Laboratories. That's because the start of a new school year has children literally putting their heads together - and that's how head lice infestations get started.
NEW YORK, N.Y. /eNewsChannels/ -- Marriage Visa Help, a global immigration consultancy specialising exclusively in family immigration, today announced that recent changes to U.K. immigration rules affect fiancee, partner and marriage visa applications made under the settlement category after 9th July 2012.
STILLWATER, Minn. /eNewsChannels/ -- Stillwater-based parenting consultant Jenny Hanlon is releasing her first book, 'Your Family Compass: A Parenting Guide for the Journey' (ISBN: 978-1592984893), a terrific resource for people raising children from birth through the early teens. Parenting is hard work and it is easy for families to get off track.