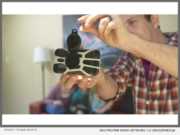 eNewsChannels NEWS: -- If Santa Claus was an influencer he'd stick Selfie Stick-It(R) to his gift giving list. Everyone knows how difficult it is to capture group photos without leaving someone out of the shot. While different products have been engineered to solve this problem the smallest and most universal is the one from Fromm Works Inc.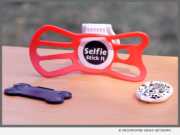 eNewsChannels NEWS: -- Get in the picture with your pets using Pet Selfie Stick-It, a new invention from Fromm Works, Inc. that conditions pets to look at a smartphone located up to 20-feet away. Utilizing Pavlovian conditioning the kit includes a treat tray that holds the pet's favorite treat.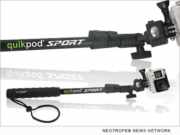 NEWS: Selfie Stick inventor Wayne Fromm, and CEO of Quik Pod(R) selfie sticks, has followed the growth of drones, action cameras, high resolution smartphones and DSLR's and predicts what will prove popular in the year to come.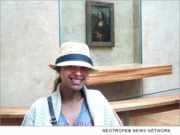 NEW YORK, N.Y. /eNewsChannels/ -- NEWS: The inventor and patent holder of the selfie stick agrees with museum and art gallery bans with one caveat. Wayne Fromm, the creator of the selfie stick, is an avid photographer and admirer of paintings, sculpture and all artifacts. One of the aspects to his invention is that the Quik Pod(R) from Fromm Works, the original selfie stick, converts from handheld selfie stick into a ground supported monopod.
LAS VEGAS, Nev. /eNewsChannels/ -- NEWS: Quik Pod by Fromm Works, the original patented selfie stick for digital cameras, announces compatibility with the new Xiaomi Yi action camera. Voted the best selfie stick by the Wall Street Journal and used by tourists and athletes worldwide, Quik Pod(R) confirms that it is working to distribute the original North American designed selfie stick to consumers in China.
MIAMI, Fla. /eNewsChannels/ -- NEWS: The inventor of the original 'selfie stick' for smartphones and GoPro cameras, Wayne Fromm, is setting the record straight and is furious at all the misreporting of the invention's origin. It was named 'invention of the year' by TIME magazine, as if it was an anonymous invention, and is touted as an Asian invention in other press reports including the New York Post.
LOS ANGELES, Calif. /eNewsChannels/ -- NEWS: When Wayne Fromm invented and patented the Quik Pod, the original 'selfie stick,' more than 10 years ago, he had no idea how popular selfies would become. In fact, according to an article in Psychology Today, selfies have redefined how we document experiences.
HOLLYWOOD, Calif. /eNewsChannels/ -- NEWS: Celebrity talk show host and comedian Ellen DeGeneres was sent a selfie machine two years ago, she could have made history with it. The Quik Pod, from Fromm Works, Inc., the 'ultimate selfie machine' as described by the inventor, is an extendable smartphone holder with a built in selfie mirror.
MIAMI, Fla. /eNewsChannels/ -- NEWS: The Quik Pod Extendable Pole from Fromm Works allows the photographer to be included in the shot at all times. Great for snowboarding, paragliding, diving, skateboarding and hiking. GoPro(R) shots are taken when no one else can assist with a photo opportunity. The patented Quik Pod is the original handheld pole for 'selfies' and action shots.