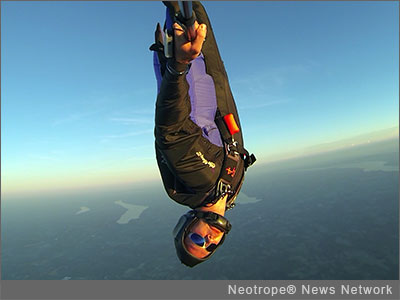 MIAMI, Fla. /eNewsChannels/ — NEWS: The Quik Pod Extendable Pole system from Fromm Works allows any photographer to be included in the shot at all times. Great for activities like snowboarding, paragliding, diving, skateboarding and hiking. GoPro(R) shots are taken when no one else can assist with a photo opportunity. The patented Quik Pod is the original handheld pole for "selfies" and action shots.
Simply attach the GoPro camera to the included quick release GoPro mount, turn the camera on, extend the pole and aim. Each Quik Pod has a built in selfie mirror to ensure the person holding it is centered in their action videos and photos.
"When used for diving the photographer can explore coral and marine life from a safe distance, even get closer to sharks!" says inventor Wayne Fromm. "I created the Quik Pod Pole before anyone even knew what to call a selfie, prior to the existence of Facebook, the iPhone and Instagram."
"I took it on a trip last month to Florence, Italy and people were amazed and asked where I got it. One guy said 'that's incredible' and his wife thought he was referring to the Pitti Palace but he corrected her by saying, no, that camera pole," says Fromm.
Media teams and GoPro photographers worldwide use the Quik Pod Pole, the original handheld extendable pole. Each Quik Pod for GoPro includes a built-in selfie mirror, padded carry bag, carabiner, waterproof lanyard, quick release GoPro mount, universal 1/4-inch x 20 camera mount and a tripod screw hole in the base to convert with accessory tripod legs for tabletop use as well.
Created by veteran inventor and entrepreneur Wayne Fromm, the newest line of Quik Pods are lightweight, rustproof, compact and sturdy. Constructed using airplane grade aluminum and rustproof steel. For GoPro, all action cameras and smartphones. Prices start at $49.95. Available online at http://www.quikpod.com/ and in professional camera stores including B&H Photo and Henrys.
U.S. Patent No. 7,684,694, Foreign Patents Pending.
Fromm Works, Inc. is an invention and design company headed by Wayne Fromm and daughter Sage Fromm that has marketed dozens of commercially successful products carrying such brands as Disney, Mattel and Nestle and is a proud supporter of Starlight Children's Foundation.
Learn more at: http://www.quikpod.com and follow on Facebook at http://www.facebook.com/quikpod .
VIDEO:

This version of news story is Copr. © 2013 eNewsChannels™ (www.enewschannels.com) and the Neotrope® News Network – all commercial and reprint rights reserved. Unauthorized reproduction in whole or in part without express permission is prohibited.