Home
Tags
Funding and Investment
Tag: Funding and Investment
eNewsChannels NEWS: -- Taipei, Taiwan based investment house Warrington Shaw is proud to announce that it will hold a competition to celebrate and support the second annual World Creativity and Innovation Day which takes place on the 21st of April, 2019.
eNewsChannels NEWS: -- Totle, the startup powering rapid growth in the world of decentralized finance (DeFi) by providing optimized exchange functionality, today announced their partnership with Republic - a leading crypto and equity investment platform backed by Binance and AngelList that enables anyone to be an angel investor.
eNewsChannels NEWS: -- Taylor Wilshire, President and CEO of Wilshire Financial and Wilshire Foundation was presented with the International Business Excellence Award in February 2019 in New York, New York, for constructing innovative programs and investments that address chronic environmental, social, and economic challenges in unique and transformative ways.
eNewsChannels NEWS: -- Radford Taylor Partners, a widely-respected boutique investment house based in Taipei, Taiwan is pleased to announce its plans to expand its investment research team during the course of this year.
eNewsChannels NEWS: -- Valentis recently engaged OGGI EQUITY, the European private equity consultancy and financial firm, to consult, advise, and guide Valentis on strategic planning in equity, corporate compliance, stock market goals, European development, and other expansion or focus areas.
eNewsChannels NEWS: -- Taipei, Taiwan-based Ward Henderson Management will hold its annual fundraising dinner in July of this year. Proceeds from the event will go to a local children's foundation to help with the running costs of the organization.
eNewsChannels NEWS: -- Taipei, Taiwan-based investment house, Warrington Shaw is planning to sponsor a local grassroots sports team. As part of an initiative to give back to the local community, Warrington Shaw plans to select a promising sports team from Taiwan each year and provide sponsorship to help pay for costs related to training, travel expenses, kit, facilities and equipment.
eNewsChannels NEWS: -- Phenomenology, Inc., an innovative production model in the performing arts, today, announced its receipt of a major grant award, presented by Delaplaine Foundation, Inc. for its inaugural theatre project in 2019. Phenomenology, a 501(c)(3) non-profit organization, produces dynamic projects across the breadth of performing arts, including theatre, film, television, and more.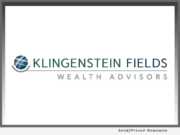 eNewsChannels NEWS: -- The Members of Klingenstein Fields Wealth Advisors (KFWA) mourn the passing of Fred Klingenstein, a founding member of the firm and Chairman Emeritus. Together with his brother, John Klingenstein, and colleague, Kenneth H. Fields, Fred established the firm in 1989 to provide investment advice and guidance to high-net-worth individuals and families. Prior to KFWA, Fred was CEO of Wertheim & Company and Co-Chairman of Wertheim-Schroder & Company.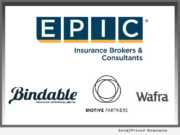 eNewsChannels NEWS: -- Bindable, an insurance technology company whose goal is to transform the affinity distribution of insurance, today announced an investment from EPIC Holdings, the corporate parent overseeing investments across the entire EPIC platform, including EPIC Insurance Brokers & Consultants, and a Wafra advised fund, in conjunction with Motive Partners, a global private equity firm focused on investing in financial technology companies.