Home
Tags
Graduate Medical Education
Tag: Graduate Medical Education
eNewsChannels NEWS: -- LOS ANGELES, Calif., April 3, 2019 (SEND2PRESS NEWSWIRE) -- On March 14, 2019 the National Residency Match Program (NRMP) released the list of applicants that applied for a Post Graduate Training slot also known as a medical "Residency." There were just over 44,600 applicants that applied for 35,000 residency positions nationwide, says Residents Medical.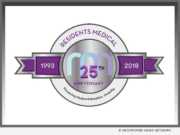 eNewsChannels NEWS: -- This year marked the 16th consecutive increase in the number of medical residency positions offered and Residents Medical, an educational and residency placement organization, is taking notice.
eNewsChannels NEWS: -- Every year between September and February, thousands of medical school graduates interview for residencies. It's the last stage before a M.B.B.S., M.D., or D.O. degree holder can sit for their Board examinations and practice as a licensed physician in the U.S. This is where Residents Medical comes in - a respected organization that specializes in education, guidance, preparation, consulting and medical residency placement for its students and candidates.
eNewsChannels NEWS: (LOS ANGELES, Calif.) -- The Everest Foundation, a non-profit 501(c)(3), has made it its core passion to help the Graduate Medical Education community. The foundation is renowned in circles of Medical Schools, Universities and Residency Programs. The foundation, in part, assists with funding of research, personnel, edu-initiatives, and residency training slots.
eNewsChannels NEWS: (LOS ANGELES, Calif.) -- America's Medical Residency applicants are deep into the residency application season. In September, the application period opened for medical students and graduates that want to be licensed physicians and surgeons via the only path in America - Completing medical residency training, says Residents Medical.
eNewsChannels NEWS: (LOS ANGELES, Calif.) -- Interview season is here and medical residents are gearing up to navigate the Electronic Residency Application Service (ERAS). They're also trying to locate a medical residency that's ACGME accredited. Thousands of residency applicants will get rejections this season because they are weak candidates and lack the proper experience for residency consideration. Residents Medical (RM) can help.