HOUSTON, Texas /eNewsChannels/ -- Move For Hunger announces that from April 1-15, 2013, Victory Packaging is holding its First Annual Victory Cup Nationwide Food Drive. As the largest packaging material distributor in North America, Victory has offices in 24 states across the country. For two weeks, these offices will compete to see which can donate the largest amount of non-perishable food items to its local food bank.
HOUSTON, Texas /eNewsChannels/ -- Financial Softworks, LLC today announced the release of the latest enhancements to their popular DashBook Royalty Pro system, which now includes the ability to directly create royalty checks or bill payments within Intuit QuickBooks, with special emphasis on book publishers, record labels, and music publishers and distributors.
HOUSTON, Texas /eNewsChannels/ -- National Structured Funding announces the launch of its website and services in 50 states. Buyer of structured settlements, fixed annuities, state lotteries, royalty payments, nationwide.
HOUSTON, Texas /eNewsChannels/ -- Starting Dec. 7, 2012 one of Sugar Land Texas' most iconic brands, Whiteflash wants to give you a holiday twinkle treat! Blingle all the way! Pin your fantasy 'Holiday Wedding' and diamond jewelry from Whiteflash for a chance to win $2,500 Verragio Engagement Ring set with a 1 carat blue sapphire from Whiteflash Inc.
HOUSTON, Texas /eNewsChannels/ -- Widely respected Houston jeweler/diamond cutter Brian Gavin and his company, Brian Gavin Diamonds, have announced the addition of a unique line of masterfully crafted diamond jewelry: The Coronet Solitaire Collection. The collection, which brings the classic look of the ever-popular solitaire diamond to today's sophisticated, fashion-forward woman, is designed to make this timeless diamond style eminently attainable by women everywhere.
HOUSTON, Texas /eNewsChannels/ -- Houston-based strategic digital design firm Softway Solutions announced today that it won second place for logo design in the American Design Awards (ADA). An internationally-recognized independent awards program, the ADA recognizes designers from around the world who produce innovative and creative design pieces.
HOUSTON, Texas /eNewsChannels/ -- Along the Gulf Coast signs of an energy boom seem evident - from the recent $3 billion addition to Valero's Port Arthur refinery to the massive $7 billion Motiva expansion still underway; more new construction, upgrades and heavy maintenance is on the books as oil and energy giants along the Gulf crescent are beefing up their plants and contemplating new ones to meet the future, according to Iron Workers District Council of Texas and the Mid-South States.
HOUSTON, Texas /eNewsChannels/ -- Houston based technology firm, Softway Solutions, is ranked number 40 on Houston Business Journal's Houston Fast 100 list. The Houston Fast 100 is ranked by two-year growth and a minimum of $1 million in revenue. All of the companies on the list are headquartered within the Houston metropolitan area and have been doing business for at least five years.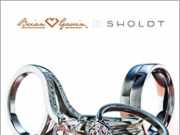 HOUSTON, Texas /eNewsChannels/ -- As a native of South Africa, one of the premier diamond capitals of the world, Brian Gavin has extensive experience in the diamond jewelry industry. In an effort to expand his selection of fine diamond engagement rings, wedding bands and men's bands, Brian Gavin has partnered with Sholdt, a jewelry design house based in Seattle, Wash.
HOUSTON, Texas /eNewsChannels/ -- Houston based Softway Solutions was recently selected as a global leader in web application development by the IT services research firm, SourcingLine. Softway Solutions was one of only 15 firms selected out of several hundred companies around the globe. The Washington DC based SourcingLine develops this publication to help companies effectively select web developers offering popular services such as Ruby on Rails, PHP, Python, .NET, JavaScript and more.