Home
Tags
Minnesota Business
Tag: Minnesota Business
eNewsChannels NEWS: -- In 2007, the IRS made the Research & Development (R&D) tax credit a Tier 1 issue, says ICS Tax, LLC (ICS). Tier 1 issues were those of high strategic importance that had a significant impact on one or more industries, essentially meaning that the IRS would audit taxpayers filing amended returns on such issues. To taxpayers' relief, the Tiered Issue Process was eliminated in 2012, effectively placing the R&D tax credit in the same audit pool as other issues.
eNewsChannels NEWS: -- MEGA Goaltending, a company committed to teaching players and coaches the proper goaltending skills and fundamentals, has launched an emotional video ad with a plea from kids talking directly to their coaches. The campaign's goal is to make sure youth hockey associations are properly trained when it comes to coaching their young goalies.
eNewsChannels NEWS: -- According to Citizens 4 Stiele, Sam Stiele recently announced formulation of Raspberry Fund Scholarship. Mentoring is one of the most important actions we can take to support a strong city for years to come. Throughout my campaign, I have shared that a focus during my mayoral term will be mentoring others to lead in the future.
eNewsChannels NEWS: -- SeQuel Response is pleased to announce that Jody Johnson, CFO/COO, was selected for the 2021 Women in Business award by the Minneapolis/St. Paul Business Journal. After receiving hundreds of nominations, the Business Journal recognizes just 50 women who have demonstrated outstanding professional achievements, leadership qualities and community contributions throughout the Twin Cities.
eNewsChannels NEWS: -- Sam Stiele announces "We Lean Local" Platform. A lot of people talk about politics and reflect on what is happening nationally. Local government impacts our lives perhaps more than any other vote we cast. When you think about who is at the helm in local government those are the people planning future city needs.
eNewsChannels NEWS: -- Citizens 4 Stiele announced today candidacy of Sam Stiele for mayor of Hopkins. "I didn't see a mayoral candidate that represented me," Stiele said in a statement. "We need someone who knows this town inside and out. Hopkins needs a leader who believes that progress is a balancing act, one who offers open communication."
eNewsChannels NEWS: -- yriad, Inc., a clinical-stage biotechnology company developing oncolytic virus therapies to treat a wide range of cancers, today announced the appointment of leading life sciences investor Harry Hoffman to the Company's board of directors.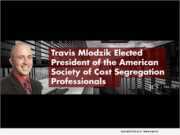 eNewsChannels NEWS: -- Travis Mlodzik, Central Practice Leader for ICS Tax, LLC has been elected President of the American Society of Cost Segregation Professionals (ASCSP). Cost Segregation is a tremendously valuable tax planning strategy for real estate investors. The ASCSP provides education, credentialing, and a code of ethics for its members while representing the very best professionals in the cost segregation industry.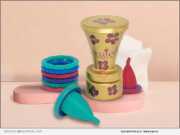 eNewsChannels NEWS: -- Women's health enthusiast Abyan Nur and her team are introducing the Heated Menstrual Cup to help women find relief from menstrual pain and reduce or eliminate dependence on over-the-counter medication.
eNewsChannels NEWS: -- NGPA, the Worldwide LGBTQ Aviation Community, announces their 2021 scholarship cycle with over $150,000 in awards available. With this year's scholarships, NGPA will have awarded over $900,000 since the program started in 1998.