Home
Tags
Music and Recording
Tag: Music and Recording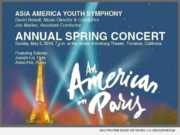 eNewsChannels NEWS: -- The ASIA AMERICA YOUTH SYMPHONY (AAYS) will premiere its first ever, "Music On Canvas". DAVID BENOIT, Music Director and Conductor, will lead the prestigious AAYS in a performance of Gershwin's classic "An American In Paris" while young artists from RYMAN ARTS create inspired artworks live on stage to the music.
eNewsChannels NEWS: -- 4818 Records announced today that Texas based band, The McGrath Project is following up its last massively successful record which sold over 500,000 units worldwide with a new chart climber entitled, "Closet Full of Skeletons."
eNewsChannels NEWS: -- The Pit Stop Players, the genre-defying instrumental chamber group composed of veteran Broadway pit musicians, will shed light on three new works at the DiMenna Center for Classical Music's Cary Hall, 450 West 37th Street, on Monday, May 13, 2019 at 7:30 p.m.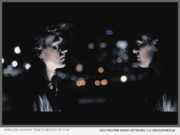 eNewsChannels NEWS: -- "Breaking News! War vet shoots in the crowd with no apparent reason, while a mysterious epidemic is raging across the country!" It may sound like another news headline, but it's awarded psychological thriller/horror feature film "FACE OF EVIL," from V-Movie Productions, now distributed by Gravitas on HULU.
eNewsChannels NEWS: -- Musifor Inc., a new-startup that has been building an innovative technology to help the background music service industry with features that have never been seen before in the market, is also investing in its own record label. To launch its services, Musifor is releasing its very first Artist on its label called, "Musifor Music."
eNewsChannels NEWS: -- IN CONCERT: Friday, February 8 - 8 p.m. - UCPAC's Hamilton Stage in Rahway, N.J. The group of people (over 100+ voices) that make up the powerhouse choir, JUBILATION, are a force in the industry.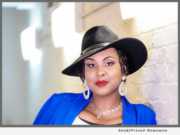 eNewsChannels NEWS: -- One inspired night in 2015, singer-songwriter Kea Michaels sat down to write a poem like a lullaby entitled "I Love You" for one of her daughters...heartfelt prose enriched with motherly adoration. She later turned that poem into a song thinking about an older daughter that had been battling, since birth, kidney hydronephrosis. KEA thought she was about to lose her to the debilitating disorder.
eNewsChannels NEWS: -- The Michigan Humanities Council announced their 2018-2021 Arts and Humanities Touring Directory, offering 40 percent grant funding for arts programming at non-profits, schools, and libraries in Michigan. Traverse City ragtime pianist, Peter Bergin, is one of the featured artists.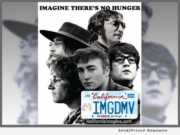 eNewsChannels NEWS: -- October 9 would have marked the 78th birthday of John Lennon, and his legacy is still helping to "Imagine there's no hunger," in California, Florida and throughout the U.S. Yoko Ono Lennon has kindly authorized the use of the iconic self-portrait image to help the California Association of Food Banks and Feeding Florida in their ongoing fight to end hunger.
eNewsChannels NEWS: -- The Ormewoods - Claire Pearson and Don McCollister - is an Americana and folk duo, and their new music video, "Hope, Pray, Sing," was released to draw people closer together rather than tear them apart. The duo's music is described by fans as "sexy, folk, pop and country." It's toe-tapping and, at times, profound.