Home
Tags
Non-Profit PR Grants Program
Tag: Non-Profit PR Grants Program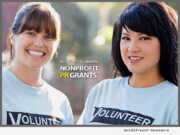 eNewsChannels NEWS: -- Neotrope®, a 40 year old marketing and entertainment company, announced today that it is now accepting applications from U.S. based 501(c)(3) charities "doing good" for its JL Simmons Nonprofit PR Grants program. For 2023 ten worthy causes will each receive $3,000 of in-kind donations for PR and marketing support via Send2Press® Newswire, for a total program value this year of $30,000.
eNewsChannels NEWS: -- Neotrope, a California-based marketing, branding, entertainment, publishing and technology firm founded in 1983, today announced the eight U.S. 501(c)(3) charities selected for its annual J.L. Simmons Nonprofit PR Grants program for 2018/19. With this year's Grant, each charity will receive up to $2400 in services including PR, marketing and social media promotion.
eNewsChannels NEWS: -- Neotrope, a brand marketing, PR, and entertainment media company, today announced the launch of its 2018 annual Non-Profit PR Grants program for 501(c)(3) charities. Launched in 2000, the PR Grant(TM) helps to raise awareness of selected charities to traditional media, to the public, as well as to potential "halo" sponsors and donors.
eNewsChannels NEWS: -- Geek Club Books, a 501(c)(3) focused on autism education and empowerment, today announced that it has been selected to receive the J.L. Simmons Non-Profit PR Grant for 2017/18. The Grants, launched in 2000 by Neotrope helps worthy causes raise visibility to media and public for the charity's good works.
ALAMEDA, Calif. /eNewsChannels/ -- The Pacific Pinball Museum (PPM) of Alameda, California is pleased to announce that PPM has been chosen as a recipient of a grant from the Neotrope(R) 2012 Non-Profit PR Grants Program. With this commitment, Neotrope aligns itself with the PPM in educating and entertaining children and adults through the preservation of pinball, while making eight decades of games available to be played by everyone.