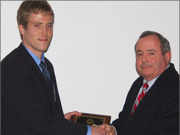 COLUMBUS, Ohio /eNewsChannels/ -- Laser cutting company Ohio Laser has won the annual Ohio Statewide Development Corporation (OSDC) SBA 504 2012 Loan Project of the Year. Ohio Laser, an ISO 9001:2008 certified metal fabricator provides precision laser cutting services, laser tube cutting, copper cutting, brass cutting and other metal fabrication services. OSDC selected Ohio Laser from over 200 hundred companies in their portfolio.
COLUMBUS, Ohio /eNewsChannels/ -- Ohio Laser LLC now offers laser cutting copper sheet and laser cutting brass sheet between .032 inches and .125 inches thick using newly acquired fiber laser cutting technology. Customers and OEMs can now cut nonferrous metals such as copper sheet and brass sheet at Ohio Laser. ISO 9001:2008 certified Ohio Laser can also fiber laser cut steel sheet metal to .5 inches, cut stainless steel sheet to .25 inches, and cut aluminum sheet to .1875 inches.
PLAIN CITY, Ohio /eNewsChannels/ -- Ohio Laser LLC has opened a new dedicated laser tube cutting and laser pipe cutting facility on their ISO-9001:2008 manufacturing campus. Original Equipment Manufacturers (OEM's) can now streamline their production of tubes and pipes efficiently at one location.
PLAIN CITY, Ohio -- Ohio Laser LLC is adding a new 3600 Watt Trumpf TruLaser 7000 laser tube cutting system to its high-tech metal fabrication business. Industry experts consider this laser tube cutting system to be one of the most advanced in the world. It is the first system of its kind in Ohio and the Midwest.
PLAIN CITY, Ohio -- Ohio Laser LLC announced today that it has received ISO 9001:2008 certification and installed a new advanced 3D laser scanning system, two crucial steps toward achieving world-class quality control of laser cut parts and fabricated metal parts in production. Companies that require quality control (QC) inspection, first article inspection and high quality repetitive processing will benefit from the new certification and technology at Ohio Laser.