Home
Tags
Science fiction
Tag: science fiction
eNewsChannels NEWS: -- As we zoom into the future in 2021, we see first-hand that the universe is filled with limitless opportunities. There's a real competition in the "race for space," and Sandra Snowden, aka Celestina, Ambassador PLANETXXI, has just entered the race with plans of her own to create The Eco City of the Future on PLANETXXI.
eNewsChannels NEWS: -- Otherworld Encounter will bring their 10,000 square foot immersive art experience back to the Nashville Fairgrounds for a limited engagement July 5-21, 2019. A team of 13 Nashville-based artists designed, developed and operated the exhibit for its debut this past winter.
ALBUQUERQUE, N.M. -- New Mexico-based writer Daniel P. Douglas announces his science fiction Cold War thriller short script, "Glimpse," has advanced to the quarterfinals of the 2016 Page International Screenwriting Awards. The awards competition was established in 2003 by an alliance of Hollywood producers, agents, and development executives.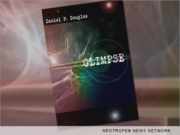 NEWS: (ALBUQUERQUE, N.M.) Daniel P. Douglas announces the release of a new short story entitled 'Glimpse,' a science fiction Cold War suspense thriller published by Geminid Press, LLC. In 'Glimpse,' a small group of agents who will become known as the 'Men in Black' deploy in response to an event that will provide a harrowing glimpse into humanity's apocalyptic future.
NEWS: Geminid Press LLC, an independent book publisher, announces the release of 'The Outworlds: War Torrent' (ISBN: 978069245004), a new science fiction adventure by acclaimed author Daniel P. Douglas that is the first in a series. In 'War Torrent,' ancient reptilian aliens clash in a war that is the start of a new interstellar crusade orchestrated by evil ethereal entities.
ALBUQUERQUE, N.M. /eNewsChannels/ -- NEWS: Geminid Press, LLC today announced it has partnered with writer-director Jack Snyder to develop a screenplay for the acclaimed science fiction conspiracy thriller 'Truth Insurrected: The Saint Mary Project.' In the suspenseful novel authored by Daniel P. Douglas, readers plunge into a sci-fi storyline featuring former FBI agent William Harrison who finds himself hot on the trail of a major extraterrestrial cover-up.