Home
Tags
Senior citizens
Tag: senior citizens
eNewsChannels NEWS: -- Media Advisory -- AARP Maryland announces Press Conference announcing PROTECT Week (Preventing Older Americans From Financial Exploitation) Statewide Public Education Campaign, Monday, June 15, 2020 at 10 a.m. ET.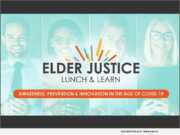 eNewsChannels NEWS: -- Since the coronavirus pandemic began, it has changed the world, our community, and the elder care industry as we know it. Given the immense impact on seniors and older disabled adults, it is more important than ever to support our elder community care systems. Taking the lead in addressing these issues is Ombudsman Services of Contra Costa, Solano and Alameda with the launch of their 12-month Elder Justice Lunch and Learn Series.
eNewsChannels NEWS: -- Silver Solutions, a company specializing in helping older adults and their families live safer, less stressful lives wherever they call home, today released a new downloadable infographic entitled "What to do with Mom's Home after she passes" for posting or sharing.
eNewsChannels NEWS: -- Elder Solutions Law Firm, PA has released a new service for Seniors in response to COVID-19. The service is called the Senior Kit, and it focuses on basic estate planning for seniors.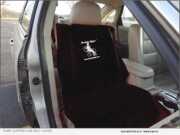 eNewsChannels NEWS: -- Katherine Miles, creator of the Ruby Slipper Car Seat Cover, shares that for this product, which allows persons with limited mobility to enter and exit a car with ease, necessity was truly the mother of invention. Miles was faced with a common dilemma: how to help her aging parent stay active and living a full life.
eNewsChannels NEWS: -- AARP Maryland is warning of a new scheme targeting Maryland's Hispanic/Latino communities. A fraudulent Bitcoin website is targeting and enticing new investors with the false hope of financial gain, combined with threats to report those with undocumented status.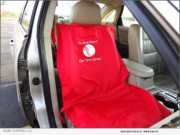 eNewsChannels NEWS: -- Ruby Slipper, LLC, announces that the Ruby Slipper Car Seat Cover, a deceptively simple product that grew out of a common frustration, has become a comfortable and affordable solution to a problem faced by many persons with limited mobility: the inability to enter and exit a car. The Ruby Slipper re-opens the door to more freedom and mobility.
eNewsChannels NEWS: -- Papa Inc, a Miami-based company that brings college students and older adults together, is providing wellbeing checks for isolated members, in partnership with AvMed.
eNewsChannels NEWS: -- At least 49 people test positive for the novel coronavirus at Orinda nursing home. "We are saddened to find out about the situation at the Orinda Care Center, where it has been reported 27 residents and 22 staff members have tested positive for COVID-19," says Nicole Howell, executive director of Ombudsman Services of Contra Costa, Solano and Alameda.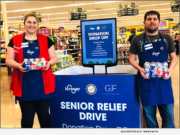 eNewsChannels NEWS: -- The Kroger Company (NYSE: KR) along with Mattress Mack of Gallery Furniture and Mayor Turner announced their partnership to feed over 10,000 seniors in need. "There is an extremely large number of housebound seniors in our community who don't have access to the food and supplies they need," said Joe Kelley, President of Kroger Houston.