Home
Tags
Ski and Snow Sports
Tag: Ski and Snow Sports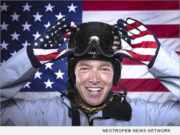 NEWS: U.S. Olympian Justin Reiter (2014 - Sochi Winter Olympics US Alpine Snowboarding National Team), who rose to national fame in 2013 as the Olympic athlete who had made his pickup truck his home in order to afford top level training, has filed suit in Switzerland against the International Olympic Committee (IOC) seeking to modify the schedule for the 2018 and 2022 Winter Olympics.
VAIL, Colo. /eNewsChannels/ -- On Dec. 4, 2010, renowned Southern Ute/Navajo Elders, Eddie and Betty Box Jr. and their dancer/skiers launched UN's International Mother Earth Day Ceremonies to open Vail's Super G at Beaver Creek, and were blessed with a beautiful day so the races could resume, Native American Olympic Team Foundation announced.
PARK CITY, Utah -- This summer, Park City residents are sure to reminisce about the year they hosted the Olympics as Olympic medalist figure skater, Peter Carruthers, takes to the ice to coach people of all ages at the Park City Ice Arena.