Home
Tags
Sports and Activities
Tag: Sports and Activities
eNewsChannels NEWS: -- ACE Adventure Resort kicked off the New River Gorge National Park rafting season with their first rafting trip on Friday, March 26, 2021. Last year brought a welcomed increase in outdoor recreational activities such as rafting, climbing, mountain biking, as more Americans turned to outdoor vacations and reduced or eliminated foreign travel in response to the global pandemic.
eNewsChannels NEWS: -- In preparation for the season kicking off, ACE Adventure Resort announced they are looking for seasonal employees to fill a variety of positions. Adjacent to the New River Gorge National Park and Preserve, ACE, a family owned and community-based resort, operates on 1,500 acres of lush property.
eNewsChannels NEWS: -- Kalyagen™ is pleased to announce the release of its "The Stemregen Effect" social media ad featuring former UCLA Bruins and NBA players Niguel Miguel, Marques Johnson and Mitchell Butler to promote STEMREGEN®, a natural stem cell enhancer documented to increase the number of circulating stem cells by stimulating Endogenous Stem Cell Mobilization (ESCM).
eNewsChannels NEWS: -- Skyhawks Sports Academy and STEM Sports® have recently announced plans for their continued partnership. With a joint interest of empowering kids with the resources to develop their physical abilities and academic knowledge these two companies will begin their 3rd year of collaboration, Stack Sports announced today.
eNewsChannels NEWS: -- SAY Soccer, a recognized leader in recreational soccer support and programming, has extended its partnership with the participation growth platform, U.S. Soccer Connect. SAY Soccer was searching for a true business partner to collaborate with on their new initiatives supporting recreational soccer and found one in the Stack Sports powered U.S. Soccer Connect team.
eNewsChannels NEWS: -- Stack Sports, the largest and fastest-growing provider of sports technology, today announced a two-year extension of its strategic partnership with New Jersey Youth Soccer, the governing body for US Youth Soccer in New Jersey.
eNewsChannels NEWS: -- Stack Sports today announced that the Fellowship of Christian Athletes (FCA) - an organization dedicated to helping athletes unite their two passions, faith, and athletics, to impact the world for Jesus Christ - has selected Sports Connect, powered by Stack Sports, to provide its organization with real-time membership insights, better communications tools and an enhanced registration process for local clubs and leagues.
eNewsChannels NEWS: -- Stack Sports announced today that Andrew R. Hiatt (Drew) will be joining the Stack Sports leadership team as the VP of Growth and Market Strategy. In his role, Hiatt will partner with clubs, leagues, and associations to grow soccer participation through Stack Sports' wealth of technology solutions and services.
eNewsChannels NEWS: -- Oregonians have a longstanding and beloved winter tradition of Plunging into the frigid Columbia waters and even some icy cold pools every February to raise money and awareness for Special Olympics Oregon. Donning their wildest costumes and swimming attire, more than 1,500 brave (some might say crazy) supporters across Oregon would have been preparing to take the Polar Plunge next month.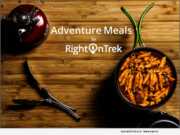 eNewsChannels NEWS: -- RightOnTrek today announced the release of its long-awaited Adventure Meals for backpackers. Their meals use the finest ingredients and preferred preparation and preservations techniques to create a delicious dining experience on the trail.