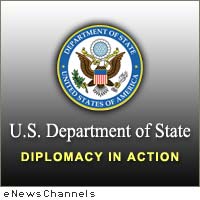 WASHINGTON, D.C. /eNewsChannels/ — The U.S. Department of State's Bureau of Educational and Cultural Affairs will welcome a group of 66 young leaders from 21 countries to the United States on August 16 to take part in a newly launched Community Solutions Program. The program is a professional development program for people working in the fields of transparency and accountability, tolerance and conflict resolution, environmental issues and women's issues. During the four-month long program, the fellows will be placed in the offices of community organizations across the U.S. to enhance their practical expertise, leadership skills, and professional contacts which will enable these leaders to better address societal issues in their home communities.
Following an orientation program in Washington, DC, the Community Solutions leaders will travel to their placements across the country, including community-based, nonprofit and grassroots organizations, as well as government offices that actively engage in community development projects. Organizations will host, mentor, and guide the participants from late August until the middle of December. The participants will also take part weekly in an online leadership institute where they will hone their leadership and organizational management skills. Upon completion of the U.S.-based portion of the program, the fellows will return to their home countries and complete collaborative community development projects.
Information about the first group of worldwide Community Solutions Fellows, from countries including Cambodia, Nepal, Rwanda, Jordan and Peru, can be found by logging on to http://www.irex.org/resource/profiles-community-solutions-leaders . Some of the hosting organizations include: the Philadelphia Association of Community Development Corporations, the Alaska Center for Public Policy, League of Women Voters California, National Youth Chamber of Commerce, CeaseFire, United Way, Search for Common Ground on Race, Rock the Vote, the U.S. International Council on Disabilities, Common Cause Colorado, and the Kansas Women's Business Center.
The Community Solutions Program is sponsored by a grant of the Department's Bureau of Educational and Cultural Affairs (ECA) and administered by the IREX (International Research & Exchanges Board). For additional details on ECA's Office of Citizen Exchanges visit http://exchanges.state.gov/citizens/profs/community_solutions.html .