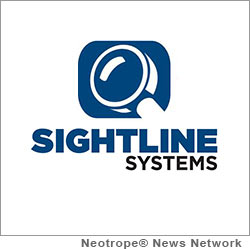 FAIRFAX, Va. /eNewsChannels/ — Brandon Witte, CEO, SightLine Systems Corp., is pleased to announce the launch of SightLine Systems Japan K.K. ("SightLine Japan") to expand the SightLine solution into the Japanese market. SightLine Japan will be headquartered in Tokyo, and will be represented by Yusuke Nakagawa, President of SightLine Japan.
SightLine Systems has provided performance management and capacity management for the overall enterprise business process to more than 100 enterprises/organizations globally in 15 countries. In today's business climate, where enterprises are required to provide stable services to maintain their competitiveness, the need for enterprise performance data management is rapidly increasing. Additionally, the adoption of cloud services and virtual environments has accelerated, and capacity management that optimizes system resource allocation and performs both static and dynamic demand forecasting will be a mission critical requirement for a competitive information system infrastructure.
Enterprise performance data management provides process definition and maintenance operations for maximizing the performance of the enterprise's business process through IT systems. Capacity management provides the resource definition necessary to attain targeted performance as well as fluctuation/integration/capture. Capacity management functions include system tuning, server consolidation and capacity planning, etc.
SightLine Systems has been providing the SightLine enterprise performance data management and capacity management solution to financial/security and communications companies, as well as government organizations globally in 15 countries in the past 20 years. SightLine Japan will enhance its business in the Japanese market by providing sales and technical support services for SightLine products, and also strengthen business relationships with domestic system integrators, domestic partners and global partners through market development and marketing activities.
The launch of SightLine Japan was endorsed by Haruyoshi Iida, President, Japan and Asia Pacific, Stratus Technologies Japan, Inc. "Stratus Technologies Japan welcomes the establishment of SightLine Japan. In the United States, SightLine Systems Corp. and Stratus Technologies Inc. have been building a long term collaborative relationship, and we are honored with a high evaluation from our customers who have enhanced competitiveness through the solution of the combination of SightLine products and Stratus products. Today SightLine products' sales and support services have been established and SightLine Japan and Stratus Technologies Japan have launched a joint business. Through this collaboration, we are looking forward to offering technologies and services aligned to the demand of the Japanese market."
Hiroyuki Kawashima, Manager, Industry 3rd Division, Software Research Associates, Inc., added, "SRA welcomes the Japan SightLine establishment. We realize the needs of a high quality IT infrastructure responding to the rapid explosion of cloud computing and virtual environment. By integrating SightLine Japan and SRA's solution, we feel confident that we are able to provide an added value advanced services and we are ready to powerfully drive our business in the future."
About SightLine Systems Japan K.K.:
Company Name: SightLine Systems Japan K.K.
Establishment: June, 2012
Representative: President, Yusuke Nakagawa
Headquarter Office: Pacific City Shiba 3F, 2-29-10, Shiba, Minato-ku, Tokyo 105-0014
Tel: 03-5419-3739 / Fax: 03-3455-0445
Web: http://www.sightlinesystems.co.jp/ .
About SightLine Systems Corporation:
Company Name: SightLine Systems Corporation
Representative: CEO, Brandon Witte
Headquarters: 11130 Fairfax Blvd, #200, Fairfax, VA 22030
Tel: (703) 563-3000
Web: http://www.sightlinesystems.com .
Copyright © 2012 Neotrope® News Network – all rights reserved.