SACRAMENTO, Calif. /California Newswire/ — Governor Arnold Schwarzenegger yesterday (Sept. 1) proclaimed September 2010 as Disaster Preparedness Month in California and urged all Californians to take action now to prepare their families and communities for disasters. "It is vital that citizens take the proper steps to prepare for a disaster," said Governor Schwarzenegger. "When Californians take important precautions such as making sure our homes are fire-ready or equipped to handle earthquakes, we can all be more prepared for the real harm a disaster can bring."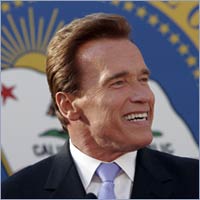 Many Californians have taken initial steps toward earthquake preparedness, but more than 60 percent of Californians have not done enough to make their homes safer and guard their personal finances in preparation for an inevitable, large-scale earthquake, according to a recent California Earthquake Preparedness Survey. Fewer than 20 percent have participated in neighborhood disaster planning or have received specific disaster trainings and fewer than 50 percent have participated in disaster trainings at work.
"Understanding your level of risk is important, but action is required to save lives and property," said California Emergency Management Agency Secretary Matthew Bettenhausen. "Every Californian should be prepared to be self sufficient for at least 72 hours after a major disaster. Every Californian is an essential member of our state's emergency response team. By taking a few simple steps now, each of us can make sure we are better prepared for the next emergency or disaster."
The California Emergency Management Agency and CaliforniaVolunteers provide the following 10 disaster preparedness tips:
1. Identify Your Risk — What are the hazards where you live or work? Find out what natural or human caused disasters pose a risk for you. Do you live near a flood plain, an earthquake fault, or in a high fire danger area? Are you prepared for an unexpected human-made disaster that can strike any time? Does your neighborhood or community have a disaster plan?
2. Create a Family Disaster Plan — Your family needs a plan that tells everyone: where to meet if you have to evacuate; who you've identified as an out-of-state family contact; how to get emergency information in your community; and how to take care of your family pets. The plan should include your children's school policies for emergencies and how you will reconnect in case of disaster. Also create an "I'm OK" contact list on your cell phone so you can quickly send updates via text or social media website and make calls to let your family know you are safe and where you are located. Keep contact numbers and emails of family member on electronic devices up to date. You can also register your family's emergency contact information with the National Next of Kin Registry.
3. Practice Your Family Disaster Plan — After you have sat down with your family and written your plan, practice it. Start by having family members meet at a designated spot outside your home, as you would after a fire or after the shaking stops. Know how to respond in the event of any disaster and whether to stay put indoors or whether to evacuate your neighborhood by car. If your family needs to evacuate, know the proper evacuation procedures and routes as determined by your local emergency services office.
4. Build a Disaster Kit for Your Home and Car — In order to be self-sufficient until help arrives, you need to have a disaster supply kit. Have at least a three-day supply of food and water for all family members.
5. Prepare Your Children — Talk to your kids about risks and what your family will do if disaster strikes.
6. Keep in Mind Those with Special Needs — Prepare for those with unique needs such as small children, seniors or individuals with disabilities.
7. Learn CPR and First Aid — Contact your local chapter of the American Red Cross today and get trained on basic first aid and CPR. Your training could save the life of a loved one or neighbor following a disaster.
8. Secure Your Space in Your Home and the Workplace — You must secure the contents of your home or office to reduce hazards, especially during shaking from an earthquake or from an explosion.
9. Understand Post 9/11 Risks — Disaster preparedness must account for man-made disasters as well as natural ones. Knowing what to do during an emergency is an important part of being prepared and may make all the difference when seconds count.
10. Get Involved and Volunteer — Donate blood, join a local Community Emergency Response Team, educate your neighbor or volunteer with your local American Red Cross.
"We recently launched the CaliforniaVolunteers Disaster Corps to coordinate trained disaster volunteers statewide," said Secretary of Service and Volunteering, Karen Baker. "We urge Californians to volunteer for local disaster preparedness efforts now before a disaster occurs. Trained disaster volunteers are a huge asset in helping neighbors and the community."
A variety of free online disaster preparedness resources such as a customized family plan, personalized children's book and disaster preparedness tips are available online at www.CaliforniaVolunteers.org/familyplan. Additional disaster preparedness resources are available at www.calema.ca.gov.
The text of Governor Schwarzenegger's Disaster Preparedness Month proclamation is available at gov.ca.gov/proclamation/15881/.