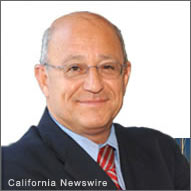 SACRAMENTO, Calif. /California Newswire/ — California's green economy is the focus of a newly released report by the California State Assembly Select Committee on California's Green Economy, Chaired by Assemblymember Pedro Nava (D-Santa Barbara). "My committee wanted to find out what the state can do to spur investment and growth in its Green Economy. The informational briefings provided invaluable insights and ideas on what needs to be done at the state level to grow this emerging sector of California's economy," said Nava.
The committee held seven informational briefings and toured green businesses in every major region of California in order to highlight green jobs and industries. The briefings featured green business owners, entrepreneurs, researchers, educational leaders, local and state government officials.
"The green technology sector has shown the potential to create more manufacturing jobs, and more opportunities at every income and education level, than any other industry in California. I am very optimistic about California's future and look forward to working with state and local leaders in this endeavor to put Californians back to work in good paying jobs."
The Assembly Select Committee on California's Green Economy was formed to assist state and local governments in shaping policies that will remove barriers and encourage investment and job creation to grow this emerging sector. This includes numerous interrelated fields such as renewable energy sources supplanting fossil fuel use, clean technologies, water conservation and efficiency, alternative transportation, vehicle electrification, renewable fuels, waste management, green buildings, and critical workforce development.
This report represents the wisdom and experience learned from people who are actually producing results in California's Green Economy.
Link to report: sites.google.com/site/pedronavadocs/assembly-select-committee-on-california-s-green-economy .