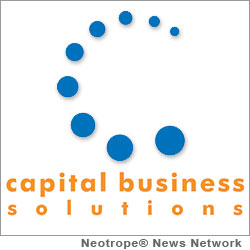 RALEIGH, N.C. /eNewsChannels/ — Capital Business Solutions announced today the availability of a new release of DrillPoint Reports, a powerful report writer designed for Sage Fund Accounting (formerly Sage MIP Fund Accounting).
DrillPoint Reports Version 12.1 includes new features such as enhanced security, the ability to drill down to source records, multiple column sorts and summarize, updated drill down grid functionality, and force printing row capability.
Flexible formatting along with charts and graphs options, which are popular features of DrillPoint Reports, have been enhanced in Version 12.1. End users can use the charts and graphs to highlight key data points in easy-to-view depictions of data trends.
DrillPoint Reports' drill down function has been enhanced to go beyond a summary grid of individual transactions and now includes the ability to view source documents such as purchase orders, invoices, requisitions, journal entries, or cash disbursements.
Report designers using DrillPoint Reports now have more control over whether a viewer of the report can change report options. The report designer can now enable or disable many run-time options in order to maintain report integrity when other staff members run reports.
"Other users within a nonprofit rely on the accounting team to provide the reports they need for the operations and projects they manage. Typically, accounting must either create reports as requested or teach department managers how to use the accounting system – which most people outside of accounting find challenging," said Capital Business Solutions principal Robbie Pollock.
"When monthly report generation is the sole responsibility of accounting, it's a huge burden and time drain for the staff," Pollock explained. "With DrillPoint Reports, accounting can create report templates and make them available to other staff members to run on demand. Managers can use DrillPoint Reports, to refresh or rerun their reports with the most recent data, in real time, and access supporting transaction details with just a few clicks."
Capital Business Solutions is a recognized leader in providing integrated financial software solutions and professional services purpose-built for the nonprofit and public sector. An authorized reseller of Sage Fund Accounting (formerly MIP), Sage Fundraising 50, Sage Abra, and Serenic Navigator, Capital Business Solutions also offers expert training and consulting services on all Blackbaud products. Capital Business Solutions has successfully implemented more than 500 clients in its 10 years of operation.
More information: http://capitalbusiness.net .
Copyright © 2012 Neotrope® News Network – all rights reserved.