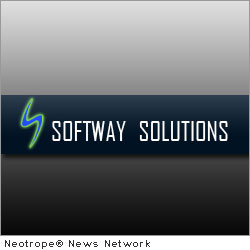 HOUSTON, Texas /eNewsChannels/ — Houston based Softway Solutions was recently selected as a global leader in web application development by the IT services research firm, SourcingLine. Softway Solutions was one of only 15 firms selected out of several hundred companies around the globe. The Washington D.C. based SourcingLine develops this publication to help companies effectively select web developers offering popular services such as Ruby on Rails, PHP, Python, NET, JavaScript and more.
SourcingLine uses their proprietary technology to perform both a quantitative and qualitative analysis of IT services companies from around the globe. They select the top-ranked companies for inclusion in the Leader's Matrix, which has comparable data points for each company's portfolio based on their areas of focus and ability to deliver services.
Softway Solutions provides strategic digital services to small enterprises and to Fortune 500 companies. They serve clients in various industries throughout the world, including oil and gas, automotive, health care, graphic design, architecture and gaming development.
Their skilled software developers fully encompass state-of-the-art technologies to create customized digital and marketing solutions for web development, animation, mobile applications, architectural illustrations and simulation training software. Softway Solutions also specializes in web promotion services, Search Engine Optimization, Internet and social media marketing, web analytics and e-commerce. Additional corporate services include identity and branding, trade show displays, video production and multimedia presentations.
For more information: .
About Softway Solutions:
Softway Solutions is widely rated as the best website design, web application development, mobile app development and Internet marketing company in Houston, Texas. For more information about their services, please visit http://www.softwaysolutions.com/ . To contact Softway Solutions, send an email to contact@softwaysolutions.com or call (281) 914-4381.
Copyright © 2012 Neotrope® News Network – all rights reserved.