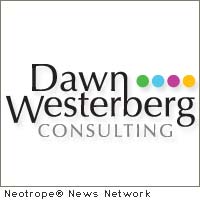 AUSTIN, Texas /eNewsChannels/ — Dawn Westerberg, president of Dawn Westerberg Consulting LLC, will be speaking at the North Carolina Association of CPAs (NCACPA) 2011 Members in Business and Industry Conference September 22 – 23, 2011 in Asheville, N.C. One session, "Putting Social Media to Work for Your Business" will focus on Social Media and the other Session, "Writing to Delight" will focus on developing online content that will help businesses grow through online presence and inbound marketing.
"Business owners need to be cognizant that buyers are approaching their selection of products and services purchases in a whole new way – by doing their own research online before they ever initiate contact," said Westerberg. "Therefore it's crucial that the company has a strong online presence with rich and compelling content on their websites to fulfill the buyer's informational needs."
In her presentations, Westerberg will cover how to approach online content and social media in a strategic manner with high consideration for what website visitors are likely to be searching for. "It's important to address the needs of online buyers by making it easy for them to answer the questions they need to move forward in the buying process. A well thought out online strategy accomplishes that, differentiates the business, and increases the number of qualified opportunities for business owners."
Westerberg is a frequent speaker on B2B Marketing and has presented to audiences throughout the United States on a variety of marketing topics including Inbound Marketing, Social Media, Marketing Strategy, Content Creation and Marketing Metrics. She assists B2B professional firms in developing marketing strategy and tactics for business growth and brand awareness.
About Dawn Westerberg Consulting LLC:
Based in Austin, Texas, Dawn Westerberg Consulting LLC serves companies from coast to coast and border to border. Dawn Westerberg is the president of Dawn Westerberg Consulting LLC (http://dawnwesterberg.com). An Authorized Duct Tape Marketing Consultant, she invites business owners to "Fall in Love with Your Business Again" through sound marketing strategy, creative collaboration and inspired performance.
Copyright © 2011 Neotrope® News Network – all rights reserved.